Jennie Gleason

Send a link to a friend
[October 13, 2008] Jennie M. Gleason, 98, of Lincoln, died Sunday, Oct. 12, 2008, at 7:45 p.m. at The Christian Village.
Visitation will be from 4 to 7 p.m. Wednesday at Fricke-Calvert-Schrader Funeral Home in Lincoln. Her funeral will be at 1 p.m. Thursday at the funeral home, with Ryan Edgecombe and Marge Iden officiating.
Burial will be in Zion Cemetery.

Mrs. Gleason was a homemaker.

She was born July 30, 1910, at Mackinaw to Henry and Dana Berry Dalbey. She married William E. Gleason on Aug. 1, 1934, in Shelbyville. He preceded her in death on Feb. 7, 1980.

She is survived by two sons, Donald (and Margaret) Gleason of Lincoln and Paul E. Gleason of Lincoln; two daughters, Margaret Rankin of Lincoln and Nancy (and Hal) Read of Elkhart; one brother, Duane Dalbey of Wichita, Kan.; two sisters, Mabel Dalbey of Schenectady, N.Y., and Louemma Cook of McLean; nine grandchildren; 12 great-grandchildren; and three step-great-grandchildren.

She was also preceded in death by one son, Wendell Gleason; three brothers, Lloyd, Vernon and Wendell Dalbey; and four sisters, Marie Burrus, Irma Danner, Lois Gandt and Dorothy Bushell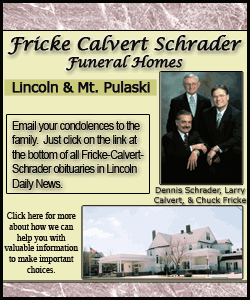 She was a member of Lincoln Christian Church and the Yadnus class at the church.
She graduated from Lincoln Community High School and Brown's Business College.
Memorials may be made to the building fund at Lincoln Christian Church or the activity department at the Christian Nursing Home.
Click here to send a note of condolence to the Gleason family.