Wilbur 'Bill' Sheldon

Send a link to a friend
[October 15, 2008] Wilbur "Bill" R. Sheldon, 77, of Lincoln, died Monday, Oct. 13, 2008, at 12:35 a.m. at Abraham Lincoln Memorial Hospital.
His funeral will be at 11 a.m. Saturday at Fricke-Calvert-Schrader Funeral Home in Lincoln, with Allen Payne officiating. Visitation will be 5:30-7:30 p.m. Friday and 10-11 a.m. Saturday at the funeral home.
Burial will be in McLean Cemetery, McLean, with military rites by Lincoln Legion Post 263.
Mr. Sheldon was a tool grinder at Caterpillar Tractor Co. for 43 years. Later he was a school bus driver.
He served in the U.S. Navy from 1950 to 1954 during the Korean War.
He was born Dec. 29, 1930, in Lincoln to Ralph and Elsie Larson Sheldon. He married Patricia "Pat" A. Girdler on Feb. 5, 1965, in Lincoln
He is survived by his wife, of Lincoln; three daughters, Vickie S. Lusher of Olympia, Wash., Debra (and Robert) D. Hoefs of Lincoln and Jacqueline C. (and Jeff) Lessen of Lincoln; one son, Anthony A. Sheldon of Chicago; one sister, Evelyn Cosatino of Lake Villa; one brother, Jack (and Martine) Sheldon of Springfield; seven grandchildren, Adam Lusher, Ashleigh Hoefs, Jonathan Lessen, Nathan (and Alexandra) Hoefs, Joseph Lessen, Samuel Hoefs and Kathryn Hoefs; and two great-grandchildren.
One brother, Garland Sheldon, and one grandson, Russell Alexander Ranger, preceded him in death.
He graduated from Lincoln Community High School in 1948.
He began working for Caterpillar in East Peoria in 1950 and returned after his four years in the Navy. He was well-respected and well-liked by his co-workers and supervisors. During this time he frequently worked a second job, allowing his soulmate, Pat, to be home with the children.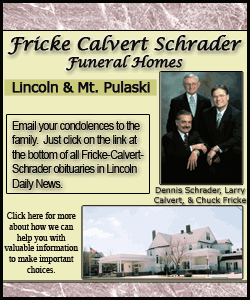 Upon retirement, Bill returned to the work force, driving a school bus for Ryder (currently First Student). He drove faithfully for 10 years and had a perfect driving record. He was awarded "Bus Driver of the Year" and was well-liked by the many children he served.
While he took tremendous pride in his work, he took greater pride in his family. His legacy of honesty, work ethic, responsibility, laughter, appreciation of food, quiet humbleness, love of children and nature, and most importantly, love and appreciation of family will be passed on to many generations to come. He will be missed by all he touched.
Memorials may be made to the American Red Cross or the American Heart Association.
Click here to send a note of condolence to the Sheldon family.