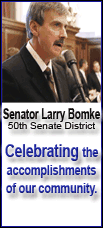 That's what happens after the then-No. 1 Trojans lose on national TV at Oregon State.
Considered to be likely out of the BCS title chase following that upset, USC (4-1, 2-1 Pac-10) has won its past two games by a combined 72-10 entering Saturday's matchup against Washington State (1-6, 0-4).
"We got hit in the mouth," tailback Stafon Johnson said of that 27-21 loss to the Beavers on Sept. 25. "We've got to get back up and fight."
USC's defense is back to being dominant, leading the nation by allowing 9.4 points per game. The inexperienced offensive line is meshing.
So the Trojans are primed to pounce back into the national championship hunt if the top teams continue to get upset.
Pete Carroll thinks it will happen. USC's coach had to have been smiling last weekend when No. 1 Oklahoma, third-ranked Missouri and No. 4 LSU all lost while his team blanked Arizona State at home 28-0.
"I'm not surprised a bit by it. I know it's really hard to win every game," said Carroll, whose team last did it in 2004 while winning its second consecutive national championship.
"From my perspective, everyone's going to get caught here - unless you have a really special season.
"The likelihood is you're going to have one or two losses at the end of the year. It's how you finish."
That finish should get a kick-start against the Cougars. New coach Paul Wulff is rebuilding Washington State's program.
Washington State ranks in the bottom 15 nationally in total offense, scoring offense, rushing offense and total defense.
Washington State has been outscored 316-111, putting the Cougars on pace to break the Pac-10 record for most points allowed in a season, 469 by Oregon State in 1981. They have lost 66-3 to California and 63-14 to Oregon at home and 66-13 at Oregon State.
Their only win came over Portland State of the Big Sky Conference and the Championship Subdivision.
On Saturday, the Cougars are starting Kevin Lopina at quarterback, who is returning from a broken bone in his back.
Lopina replaced former starter Gary Rogers. He is out for the season with a stable cervical spine fracture.
The quarterback who replaced both of them, Marshall Lobbestael, is out for the year after tearing knee ligaments last weekend at Oregon State. Peter Roberts, who won a recent campus-wide tryout to be the scout team quarterback, will be in uniform Saturday.
Plus, top running back Dwight Tardy, left tackle Vaughn Lesuma and tight end Devin Frischknecht are likely to be out with injuries.
Wulff said his players' morale is holding up "reasonably well."
"The more positive we as a team and coaches stay together, the more productive we can be," Wulff said. "The more negative stuff is out there, the harder it is for people to keep their morale up."