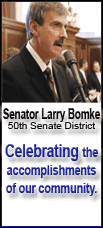 The game was supposed to be a battle between two national title contenders and Heisman Trophy-caliber quarterbacks in McCoy and Missouri's Chase Daniel. The Tigers had been within one victory of playing for the national title last season and were ranked as high as No. 3 just a week ago.

It wasn't close. Not even for a little while.
[Associated Press; By JIM VERTUNO]
Copyright 2008 The Associated Press. All rights reserved. This material may not be published, broadcast, rewritten or redistributed.