Lincoln Daily News
welcomes letters of appreciation, information and opinion on matters pertaining to the community.
As a community we need to be able to talk openly about matters that affect the quality of our lives. The most effective and least offensive manner to get your point across is to stick to the issue and refrain from commenting on another person's opinion. Letters that deviate from focusing on the issue may be rejected or edited and marked as such.
.
You may also send your letters by e-mail to ldneditor@lincolndailynews.com
or by U.S. postal mail:
Letters to the Editor
Lincoln Daily News
601 Keokuk St.
Lincoln, IL 62656
Letters must include the writer's name, telephone number, and postal address or e-mail address (we will not publish address or phone number information). Lincoln Daily News reserves the right to edit letters to reduce their size or to correct obvious errors. Lincoln Daily News reserves the right to reject any letter for any reason. Lincoln Daily News will publish as many acceptable letters as space allows.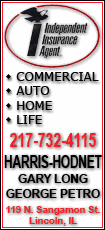 To the editor:

To everyone who is either liberal or conservative: President Bush has been in office 7 1/2 years. The first six the economy was fine despite 9/11 and other outside forces. In fact, almost two years ago the consumer confidence was at a five-year high. Regular gas was about $2.19 and the unemployment rate was 4.5 percent. The Dow Jones hit a record high of over 14,000, and Americans were buying new cars, taking cruises, vacations, etc.

But Americans wanted a change, so in 2006 they elected a Democratic Congress and we received a change all right, because in the past two years consumer confidence has plummeted and gas prices went over $4 a gallon. Unemployment is over 6 percent. We Americans have seen our home equity drop by over $12 trillion, and home prices are still dropping. More homes are being foreclosed than I have ever seen or imagined. The Dow Jones is in trouble, with the hope that the bailout will help. We have seen almost $3 trillion evaporate from our stocks, bonds, mutual funds, and/or state and federal retirement accounts.

[to top of second column in this letter]

So we thought we wanted change in 2006 and we elected a Democratic Congress, and now we have it: the problems they either created or failed to solve the past two years they have been in control.
Remember, the president does not have any control over the issues outlined in this letter; only the Congress does. The Democratic Congress has done nothing the past two years to help solve these problems. Now the Democratic candidate for president says he is going to give us all some more change along with his Democratic Congress.
How much of this change can we stand?
Les Van Bibber
Lincoln
[Posted October 22, 2008]