At the top of priorities for the evening was to pass next year's budget and levies. The county's fiscal year is from Dec. 1, 2008, to Dec 1, 2009.
The budget was presented first and passed with two board members voting no: John Stewart and Pat O'Neill.
Following acceptance of the budget, each of the individual levies for which the county collects taxes was brought to a vote, one a time.
A total levy amount of $812,430 for the general fund was first approved. Stewart and O'Neill voted no.
When it came to the health department's proposed levy for $386,100, it failed in a 5-5 vote. Stewart, Aylesworth, Luster, Mitchell and O'Neill voted no. Ruben, Farmer, Logan, Werth and McIntosh (all members of the finance committee) voted yes.
As a side note, this figure represents only a small portion of the total operational costs for the health department. Administrator Mark Hilliard has explained in the past that for as much as 80 percent of their funding, the department relies on grants obtained for specific programs. He has also said that grant funding is getting more difficult to acquire.
The Board of Health determines the health department budget, and their levy is based on that budget information.
John Stewart put a question to the floor, asking what the current consumer price index is, and he asked for clarification on pay raises that were included in the health department's budget.
The county uses the CPI for pay raises for county employees.
Stewart was told in response that the current CPI is 4.1 percent. At its last meeting, the Board of Health approved a budget that included pay raises for administrative staff: 3.5 percent for everyone except the administrator and 4.5 percent for Hilliard. It was said that this was much the same as last year.
Luster said, "I don't think that we knew about the salary increases and the percentages until the board-of-whole meeting (last Thursday). Some of that might have influenced tonight's vote."
Board chairman Dick Logan said, "I wasn't here." It was stated during the meeting last week that he and O'Neill were at choir practice.
A comment was made later that it would have been helpful to have had someone from the health department or their board explain the salary increases. It was not detailed in the Board of Health meeting notes.
With a motion from Stewart and a second from O'Neill, the health department levy was amended to $350,000 and then passed with unanimous approval.
The $36,100 that was taken from the health department levy was then added to the general fund to change that amount to $848,530. Before voting on this change, Ruben asked if anyone planned to ask to change any other individual levy. Having no comment, the amendment was brought forward and passed.
Discussion evolved when the county bridge levy with brought forward at $94,500.
This is one of the funds was robbed for the past three years to help keep the general fund in the black.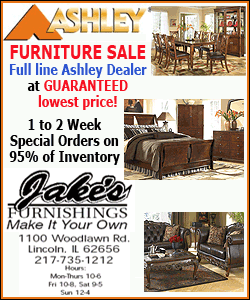 Stewart inquired if this was the full levy amount possible. Ruben said no. It was cut down in committee due to a shortage in the general fund. It could be made as high as the motor fuel match tax, which is $182,000.
The motor fuel tax is used for big projects, and it can be used either in the highway department or put in the bridge fund.
The accumulated motor fuel tax pool and the county's ability to supply matching funds have been allocated this year to the highway fund, where funding is needed for the Elkhart-Mount Pulaski blacktop project.
Stewart asked if the highway department levy was at its full amount.
In past recent years the highway department voluntarily made major cuts to its budget, holding on equipment purchases and other big expenses that could be put off short-term but would need to be made up in the future.
Ruben said, "That is their current levy, less 1 percent, I believe."
The levies were approved at:
$848,530 Total General Fund

$170,000 Liability Insurance Fund

$812,500 Illinois Municipal League Retirement fund

$380,160 County Highway Fund
* O'Neill voted no.

$94,500 County Bridge Fund
* O'Neill voted no.

$350,000 Logan County Department of Public Health

$182,655 Highway Match Tax Fund

$150,000 Ambulance Service Fund

$55,398 Tuberculosis Sanitarium Fund

$80,000 Senior Citizens' Tax Fund

$103,000 Cooperative Extension Service Fund
There were a few "present" votes when there could be a conflict of interest. Otherwise, except where noted, all the above levies passed with unanimous approval of those present.
A truth-in-taxation hearing is scheduled prior to next month's county board adjourned meeting on Nov. 18 at 7 p.m. at the Logan County Courthouse.
[By JAN YOUNGQUIST]
Past related article