Lincoln Daily News
welcomes letters of appreciation, information and opinion on matters pertaining to the community.
As a community we need to be able to talk openly about matters that affect the quality of our lives. The most effective and least offensive manner to get your point across is to stick to the issue and refrain from commenting on another person's opinion. Letters that deviate from focusing on the issue may be rejected or edited and marked as such.
.
You may also send your letters by e-mail to ldneditor@lincolndailynews.com
or by U.S. postal mail:
Letters to the Editor
Lincoln Daily News
601 Keokuk St.
Lincoln, IL 62656
Letters must include the writer's name, telephone number, and postal address or e-mail address (we will not publish address or phone number information). Lincoln Daily News reserves the right to edit letters to reduce their size or to correct obvious errors. Lincoln Daily News reserves the right to reject any letter for any reason. Lincoln Daily News will publish as many acceptable letters as space allows.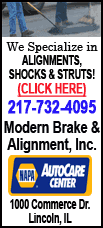 To the editor:

My wife and I traveled to Lincoln from the Missouri Ozarks to join those dressed in period clothing to participate in the 1858 Abe political rally and speech re-enactment on Oct. 16. We offer our highest praise and deepest heartfelt thanks to everyone who helped to bring history alive in such a fun and revealing experience for so many, especially the 900 students in attendance. This event was one of the most effective ways I have ever known for fulfilling the song's theme:

Lincoln, Lincoln, we are proud of you.
Lincoln, Lincoln, we will e'er be true.
Following the bright Golden Rule,
We get things done without much ado.
We're happy, snappy, when we send our call.
Lend your shoulders one and all.
If dear old Abe should return,
I know what he would do --
He'd say, "Lincoln, we're proud of you."

[to top of second column in this letter]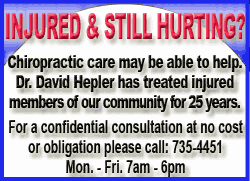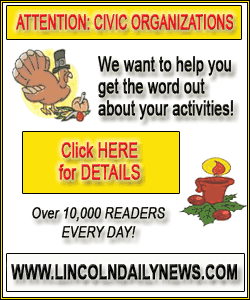 On our way to Lincoln on Oct. 15, we visited Alton to see the site of the last Lincoln-Douglas debate on its 150th anniversary -- the day before Abe's namesake city rally-speech. To the Web page of the Abraham Lincoln Bicentennial Commission of Lincoln, Illinois, I have added commentary, a link to the re-enactment program (PDF), and links to photos taken of the Lincoln and Douglas statues in Alton as well as photos of the local Abe rally-speech re-enactment. Links are also provided to news media coverage, including brief video.
Perhaps some day the citizens of Lincoln and Logan County will again fulfill the song's theme by raising enough money to commission an Abraham Lincoln statue to commemorate his first namesake city speech of Oct. 16, 1858. After all, if Taylorville, Ill., can have one outdoor Lincoln statue, why can't Lincoln, Ill., have two?
Warmest regards,
Leigh Henson
Honorary Lincoln Bicentennial commissioner
dlhenson@missouristate.edu
Access the recent additions at http://www.geocities.com/
findinglincolnillinois/abes200th-lincolnil.html#news
[Posted October 24, 2008]