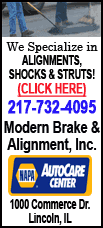 Farmer City and Illiopolis
Two of the extensions are to neighbors outside the Lincoln-Logan County territory that do not have enterprise zone opportunities near them. Both of these go to Monsanto sites, one in Farmer City and the other in Illiopolis. A connecting corridor had to be extended to the Farmer City site, but the corridor for Illiopolis had already been established when Formosa and Elkhart were added in 2004. Together, these two extensions total 0.8 square miles.
The total additions of 3.6 square miles bring the current area to approximately 10 square miles used in 22 years. About 5 1/2 square miles remains available for future developments, which enterprise zone manager Phil Mahler says is plenty for Logan County.
This enterprise zone expansion also incorporates an area to the north of Lincoln.
The extension brings the Farmer City Monsanto plant into the enterprise zone. The plant will mainly see relief from an Illinois natural gas big-user tax.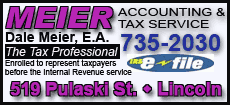 When Monsanto made its request for enterprise zone use to Lincoln and Logan County, the Lincoln & Logan County Development Partnership was asked to review the proposal and provide an opinion. Joel Smiley, executive director of the partnership, identified that healthy economies in nearby areas help the local economy, as many people travel back and forth spending money. Additionally, both Monsanto sites have employees living in Logan County who contribute even more to the economy through income and property taxes.
But, even beyond the economic impact, these extensions to Monsanto sites outside the Lincoln and Logan County borders have additional benefits. Smiley evaluated the potential savings that Monsanto would see and recommended fees for its use. An agreement was struck with Monsanto to pay Lincoln and Logan County each $20,000 a year for the term of the enterprise zone, which expires in 2017. A portion of this fee would be used to offset administrative fees, and the remainder can be used for future marketing and development costs.
The money that comes with these designations is good, but Logan County Regional Planning Commission director and enterprise zone manager Phil Mahler says, "It is the jobs that are most important."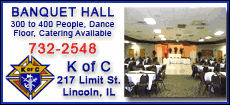 Lincoln additions
Advance planning creates better growth in a community. Targeted land-use, zoning and enterprise zone preparations help pave the way for commercial and industrial developments.
Also bundled into this enterprise zone request was acreage of 2.8 square miles located to the north of Lincoln. This area extends along the Business 55 loop between Eaton Corp. and Kruger Elevator. What is currently farm ground was identified during land-use planning a couple of years ago as having high potential for industrial development and was written into the county's comprehensive plan. The properties offer highway and railroad transportation, as well as quick and easy access to Interstate 55.
Local business promoters are now targeting big businesses, agriculturally related industries in particular, to come and see what Logan County has to offer. The high agriculture production, central location in the nation and in Illinois, interstate access, good local highways, rail and air transportation all make Logan County a prime location for any agriculture-related industry or one that needs production, warehouse or distribution centers.
Several months ago Logan County zoning officer Phil Mahler said that the interest of a large agriculture business in touring tour potential sites here was spurred by this enterprise zone addition. While still two years out from planning future advancement to their operations, Monsanto officials were here last week to see what we had to offer.
Also related to business development, the Lincoln & Logan County Development Partnership director told Logan County Board members a week ago about other possibilities that he would be pursuing that could bring economic growth to the county.
"The partnership will be looking at wind energy over the next couple of years," Smiley said. This would be pursued from several standpoints: manufacturing, suppliers and end users, he said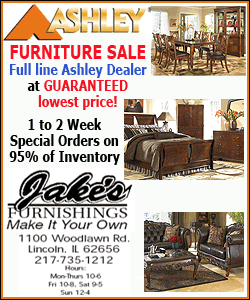 The board had just heard discussion on completing the agreement that would allow the start of the Rail Splitter Wind Farm construction. "The potential that Logan County has, even in a tough economy, to pick up new companies, new opportunities, new technologies, is going to be fantastic, Smiley added.
Smiley said that he was recently at the National Association of Manufacturers show and picked up a lead on an international company that designs wind turbines. This is a German company, one of the largest in the world, that is in the process of relocating its international headquarters to Chicago. There could be an opportunity for a warehouse and distribution center somewhere in the Illinois vicinity. That's one of the opportunities that we're going after, he said.
He shared more of his plans to represent Logan County to the wind industry. Next week is a networking show in Chicago. At the beginning of December is an international supply and chain show in Cleveland. Next year the largest show in the world is in Chicago. We're going to have a presence there as well. He concluded, "These are our opportunities to really shine Logan County for this great industry."
[By JAN YOUNGQUIST]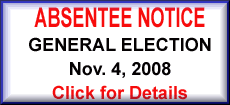 People to contact for business development or enterprise zone information:
Joel A. Smiley, MPA
Executive Director
Lincoln & Logan County Development Partnership, NFP
1555 Fifth St.
Lincoln, IL 62656
Phone: 217-732-8739
EconDev@LincolnLogan.com

Enterprise zone manager:
Phil Mahler, Director
Logan County Regional Planning Commission
529 S. McLean St.
Lincoln, IL 62656
Phone: 217-732-8835
Cell: 737-0151
planzone@co.logan.il.us
Related information
For additional information on area codes, zoning, available properties, work force and the community see the Lincoln & Logan County Development Partnership website, http://www.lincolnlogan.com/.
You will also find the Logan County Comprehensive Plan, "Acres of Opportunity," on that site.
"Enterprise zones are an important tool for stimulating economic growth and community revitalization. Incentives are provided to attract business startups and expansions, create new jobs, encourage revitalization of neighborhoods, and expand the tax base." To see more on "Lincoln/Logan County Enterprise Zone; Incentives for Capital Improvements," click here.
___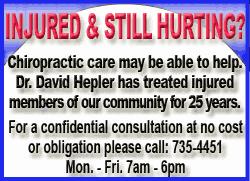 Previous related articles