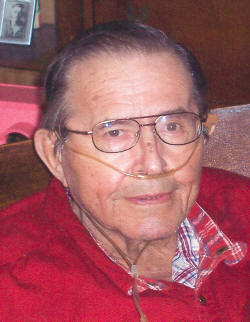 John Deters Jr.
Send a link to a friend
[April 06, 2009] John Deters Jr., 78, of Lincoln, formerly of Middletown, died Sunday, April 5, 2009, at 4:55 a.m. at St. John's Hospice in Springfield.
His graveside funeral service will be at 11 a.m. Thursday at Pleasant Valley Cemetery, rural Middletown, with the Rev. Charles Olander officiating. Military rites will be conducted by Middletown American Legion Post 672.
There is no visitation.
Arrangements are by Fricke-Calvert-Schrader Funeral Home in Lincoln.
The family invites all family and friends to luncheon and fellowship at Zion Lutheran Church, New Holland, after the service.
Mr. Deters was a farmer in the Middletown area for 45 years.
He served in the U.S. Army during the Korean War, from 1951 to 1953.
He was born Dec. 7, 1930, at rural Middletown to John and Gretchen Kunken Deters of Oldenburg, Germany. He married Marilyn Hunsley on Oct. 24, 1954, at Zion Lutheran Church of New Holland.
He is survived by his wife, of Lincoln; three sons, John (and Jerrie) Deters of Mason City, Dave (and Sandy) Deters of Normal and Rick (and Ardith) Deters of Middletown; one daughter, Donna Deters of Middletown; one sister, Mary June Boyer of Middletown; 14 grandchildren; six great-grandchildren; one niece; one nephew; and many cousins.
One granddaughter preceded him in death.
He was a lifelong member of Zion Lutheran Church of New Holland. He was also a member of American Legion Post 672 of Middletown and the K/C/B Historical Society. He was a trustee of the Corwin Township board. He was also very active with the Middletown Boy Scouts and the Middletown Civic Club, which was instrumental in the construction of the Middletown Park pavilion.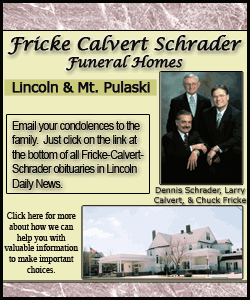 John enjoyed his family and friends, playing pinochle, camping, and fishing. Most recently he enjoyed the many visits and pinochle games with his grandchildren.
In lieu of flowers, the family requests memorials be made to Zion Lutheran Church of New Holland or to the Middletown Rescue Squad to be used toward the purchase of a new defibrillator.
Click here to send a note of condolence to the Deters family.