Abraham Lincoln Quarter Midget Assoc., Humane Society, Vicki Larson, wildflower walk and Family Medical Center in Close Up
By Mike Fak
[April 14, 2009] Abraham Lincoln Quarter Midget Assoc. Arrive and Drive is Saturday, April 18. The event is for kids 5-15. Do you want to drive a real quarter midget? Kids can drive 10 laps for $10. After the event, a club race will be hosted at 4 p.m. Check www.alqma.com for more info and directions.
The event is at the ALQMA track in Broadwell (behind old Rocking Horse Campground)
When: 9 a.m.-3 p.m. and club race at 4 p.m.
---

Humane Society adopt-a-thon April special: Two cats for the adoption cost of one plus $6. Although there will be both dogs and cats for adoption, if you adopt one of our wonderful felines during the month of April, you can adopt another one for just the amount of the rabies registration: $6. If two cats are a stretch for you, bring a friend and apply at the same time and split the cost. These wonderful animals are currently living in foster homes, have been spayed or neutered, have received necessary inoculations, and are socialized to be able to move right into your loving home. Visit www.hslclincoln.org or call 217-737-4042 for details.
The adopt-a-thon will be at Ace Hardware, 521 N. Kickapoo, between 9:30 and 10:30 a.m. Saturday.
---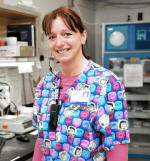 Vicki Larson is ALMH April Employee of the Month. Being able to give patients a "good stick" is just one of the traits that earned Vicki Larson the title of Employee of the Month for April at Abraham Lincoln Memorial Hospital.
A new employee who will celebrate her two-year anniversary at ALMH in June, Larson is a medical laboratory technologist. But she's stepped into other roles when needed, always sure to greet and treat patients with respect and provide great patient experiences.
"She was oriented and worked briefly in the front office. Patients liked her. She's very helpful, good around patients and a good 'sticker,'" says Fay Arulfo, a phlebotomist in the Laboratory. "One very outstanding traits of Vicki's -– she just pitches in and helps whenever the phlebotomist up front is busy."
Larson received her associate degree from Illinois Central College and lives in Peoria with her family. She works a 10-hour split-shift schedule, which offers her day much variety.
"I stick, order and test on a day-to-day basis," Larson says. "Although it can be stressful, it is very fulfilling to know you are helping sick people to get better."
She enjoys working at ALMH because it's like a family community. "You get to know the patients, whereas in a big hospital, you get very little contact with the public," Larson adds.
ALMH employs more than 290 in a wide variety of job functions. A different employee is honored each month for their commitment to creating GREAT patient experiences, getting GREAT results, and making ALMH a GREAT place to work.
---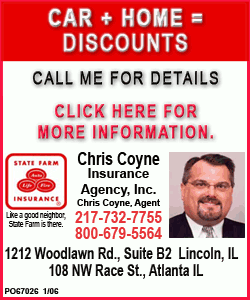 Wildflower Nature Walk: Celebrate spring on April 18 or 25 with a walk on beautiful Elkhart Hill to enjoy the spectacular wildflowers between 9:30 a.m. and 1:30 p.m. The walks will be led by botanist Bill McClain, retired program manager from the Illinois Department of Natural Resources. McClain has studied the flowers and history of Elkhart Hill for over 25 years. Reservations are required for both walks, and registration closes on April 15. The cost is $5 per person. For the complete information, click here.
---

Open house for the new digital mammography unit at Family Medical Center, 515 N. College, will be from 10 a.m. till noon Saturday. There will be refreshments and door prizes.
---
Got a good piece of news, information or something that we can all brag about? If you do, e-mail Mike and let us tell everyone about it. Plus you can win cash. Every submission, whether we use it or not, will get your name in the "Close Up" grab bag. At the end of the month we will draw a name and someone will get $25 just for dropping us an e-mail. If you wish, we will be happy to donate your winnings to the organization of your choice.
You can contact Mike at mikefak@lincolndailynews.com.
[By MIKE FAK]