Vera Henderson

Send a link to a friend
[April 17, 2009] Vera E. Henderson, 85, of Lincoln, died Thursday, April 16, 2009, surrounded by the love of her family.
Visitation will be 4-7 p.m. Sunday at Holland Barry and Bennett Funeral Home in Lincoln. Her funeral will be at 10 a.m. Monday at Lincoln Christian Church, with David Upchurch officiating.
Burial will follow in Zion Cemetery.

Mrs. Henderson was owner and operator of Vera's Beauty Shop.

She was born Jan. 21, 1924, in Mulberry Grove to Charles (and Pat) Martin and Roxie (and Neely) Martin. She married Marion Henderson on March 28, 1943, in Abilene, Texas. Together they shared many years of marriage and ministry while raising three daughters.

She is survived by her husband, "Doc," of Lincoln; three daughters, Jane Vincent of Lincoln, Jill (and Dan) Thornton of Auburn and Judy (and Todd) Givan of Lincoln; six grandchildren, Chad Givan of Springfield, Kallie (and Beau) Truelove of Chrisman, Clint Thornton of Auburn, Dusty Givan of Lincoln, Cole (and Megan) Thornton of Macomb and Kade Vincent of Lincoln; five great-grandchildren, Kamdon, Karson and Kalvin Truelove of Chrisman, Maria Givan of Lincoln, and Jackson Thornton of Macomb; one sister, Mary (and Russ) Bone of El Paso, Texas; and several nieces and nephews.

She was preceded in death by her brother, Jack Martin.

She was a longtime member of Lincoln Christian Church and active at South Fork Church of Christ.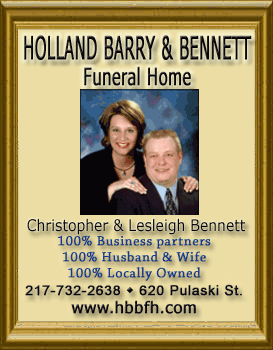 She was an active volunteer at Abraham Lincoln Memorial Hospital, The Christian Village and the blood bank.
Memorial donations may be made to the Henderson Chair at Lincoln Christian College and Seminary or to Memorial Home Hospice and will be accepted at the funeral home.
Click here to send a note of condolence to the Henderson family.