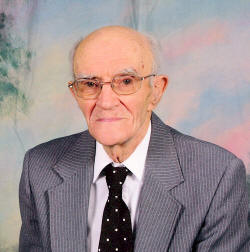 John Boyd

Send a link to a friend
[April 20, 2009] John William Boyd, 95, of Lincoln, died Sunday, April 19, 2009, at 12:50 p.m. at Abraham Lincoln Memorial Hospital.
Visitation will be 5-8 p.m. Tuesday at Fricke-Calvert-Schrader Funeral Home in Lincoln.
The family invites you to a "celebration of life" for their beloved father, grandfather, great-grandfather and friend. The service will be at 1 p.m. Wednesday at the funeral home, with the Rev. David Mitchell, the Rev. Jesse Cavness and the Rev. Steve Owens officiating.

Burial will be in Union Cemetery, with military rites conducted by American Legion Post 263.

Mr. Boyd retired from Lehn & Fink and was an ad inserter at the Lincoln Courier.

He served in the U.S. Army from 1941 to 1945 and was a veteran of the Battle of the Bulge in World War II.

He was born March 1, 1914, in Franklin County to Noah and Katie Miller Boyd. He married Annabelle Brown on Sept. 30, 1950. They were later divorced, and he married Mazel Richardson on July 18, 1975. She preceded him in death on March 25, 2000.

He is survived by two daughters, Joann (and Bucky) Washam of Lincoln and Carolyn (and Don) Goforth of Lincoln; a daughter-in-law, Dottie Richardson of Columbia, Mo.; five sons, Alan (and Kate) Boyd of Springfield, Bobby (and Margaret) Richardson of De Soto, Jerry (Vertus) Richardson of Delavan, Johnnie (Sue) Richardson of Kansas City, Kan., and Art (and Gloria) Hofer of Decatur; 16 grandchildren; and 31 great-grandchildren.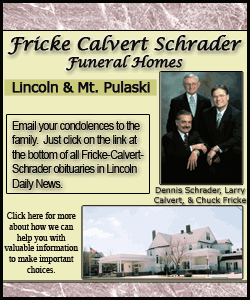 He was also preceded in death by one sister, six brothers, one son and one grandson.
He was a member of the United Pentecostal Church in Lincoln.
Memorials may be made to Abraham Lincoln Memorial Hospital rehab.