Daniel Schaub

Send a link to a friend
[April 20, 2009] Daniel S. Schaub, 21, of Lincoln, died Saturday, April 18, 2009, at 1:58 p.m. in an auto accident in Sangamon County.
Visitation will be 5-8 p.m. Wednesday at Fricke-Calvert-Schrader Funeral Home in Lincoln. His funeral will be at 10 a.m. Thursday at the funeral home, with Doug Read officiating.
Burial will be in Zion Cemetery.
Mr. Schaub was a caretaker for members of the family.
He was born Sept. 29, 1987, in Lincoln to Paul and Glenna Thomas Schaub. His mother preceded him in death on Dec. 9, 2006.
He is survived by his father, Paul Schaub Jr. (and Denise Matthews) of Lincoln; one sister, Stacey Close of Millsboro, Del.; five brothers, Richard (and Jessica) Schaub of Lincoln, Michael (and Amanda) Schaub of Milford, Del., Dustin (and Kathie) Schaub of Lincoln, Brian (and Angie) Graack of Fayetteville, N.C., and Jamie (and Jen J.) Graack of Lincoln; his paternal grandmother, Bertha Eleanor "Buffey" Schaub of Lincoln; his maternal grandmother, Ellen Thomas of Eureka; 12 nieces; and three nephews.
He was also preceded in death by his paternal grandfather, Paul E. Schaub Sr., and his maternal grandfather, Gene Thomas.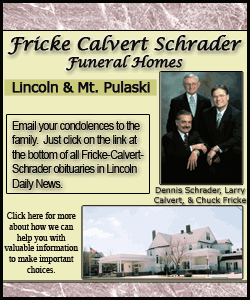 He was a member of Open Arms Christian Fellowship Church of Lincoln.
Memorials may be made to the family of Daniel Schaub.
Click here to send a note of condolence to the family of Daniel Schaub.