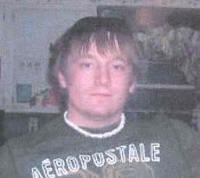 Dallas Baker

Send a link to a friend
[April 24, 2009] FARMER CITY -- Dallas A. Baker, 19, of Farmer City, died Wednesday, April 22, 2009, at 3:02 p.m. in the emergency room of Carle Foundation Hospital in Urbana.
Visitation will be from 10 a.m. to 1 p.m. Saturday at Quiram-Peasley Funeral Home in Atlanta. His funeral will follow at 1 p.m. at the funeral home, with Luke Welchel officiating.
Burial will be in Atlanta Cemetery, rural Atlanta.
He was employed at Impressions in Champaign.
Dallas Andrew Baker was born Feb. 3, 1990, in Lincoln to Bevan Andrew and Angela J. Welchel Baker.
He is survived by his parents, of Farmer City; two brothers, Cody G. Baker and John C. Baker, both at home; maternal grandparents Jean Miller of Farmer City and James Welchel of Arkansas; paternal grandparents Shirley Baker and Gene Baker, both of Lincoln; and great-grandparents Pat Baker of Dallas, Texas, and Betty Endicott of Oregon.
He was preceded in death by great-grandparents Ebin and Mari Welchel and Harold Baker; great-great-grandfather Carl Baker; and an uncle, Dan Welchel.
He had attended Blue Ridge High School, where he was an avid golfer and great friend to many.
He will be remembered as a funny, happy-go-lucky guy. Everyone who knew Dallas knew him as a wonderful, loving, caring, funny son, brother, nephew, cousin and friend.
He was a beloved brother to Cody and John. He was a wonderful son and will be greatly missed.
Memorials may be made to the Dallas A. Baker Memorial Fund in care of the Farmer City State Bank.
Click here to send a note of condolence to the Baker family.