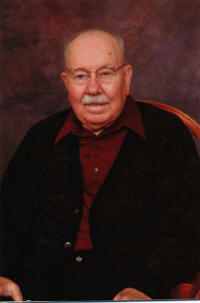 Harold Apel

Send a link to a friend

[April 28, 2009] Harold Albert Apel, 89, of Lincoln, died Monday, April 27, 2009, at 1:10 a.m. at the Christian Nursing Home.

Visitation will be from 9:30 to 10:30 a.m. Thursday at Faith Lutheran Church in Lincoln. His funeral will follow at 11 a.m., with Pastor Mark Peters and Chaplain Ryan Edgecombe officiating.

Burial will be in Harmony Cemetery, Beason.
Holland Barry and Bennett Funeral Home in Lincoln is handling arrangements.
Mr. Apel farmed in Logan County for 50 years before retiring in 1988.

He was born March 16, 1920, in Atlanta to Albert Henry Apel and Anna Marie Schrauf Apel. He married Rosemary LaForge on Dec. 23, 1945, at the First United Methodist Church in Lincoln.

He is survived by his wife, of Lincoln; three sons, Gary (and Mary) Apel of Bourbonnais, Gene Apel of Lincoln and Garret (and Jill) Apel of Beason; one daughter, Gail Apel-Sasse (and husband David) of Beason; three grandchildren, Nathan Sasse of Chestnut, Abrigail Sasse-Temple (and husband Doug) of Fulton and Kristine Apel of Beason; two step-grandchildren, Chad (and Deb) Blake of Bourbonnais and Eric (and Peggy) Blake of Bourbonnais; three step-great-grandchildren; a sister-in law, Catherine Apel of Atlanta; a cousin, Esther Horn of Mount Pulaski; one niece; and one nephew.

His brother, Vernon Apel, preceded him in death.
Mr. Apel was an elder, Sunday school teacher and Sunday school superintendent at Zion Lutheran Church in Lincoln. He was then a charter member of Faith Lutheran Church in Lincoln and served as chairman of the elders.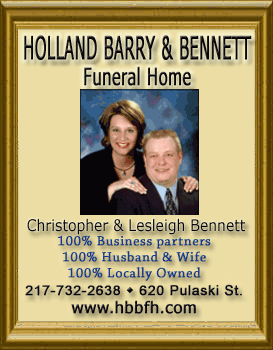 He was a lifelong member of the Logan County Farm Bureau, former president and treasurer of CROP and a member for 60 years, co-leader of Cloverdale 4-H Club, president and nine-year board member of East Lincoln Farmers Grain Co., president of the local Thrivent (formerly AAL) chapter, past president and nine-year board member of the Federal Land Bank Board, a member of the Lawndale school board, and president of Chester-East Lincoln school board.
He graduated from Bluegrass Grade School in Atlanta and went on to attend Lawndale High School. He was a member of Rural Youth, where he met his wife.
In lieu of flowers, memorial donations may be made to Zion Lutheran School, Faith Lutheran Church or the chaplain ministry at The Christian Village.