Lois Kennett

Send a link to a friend
[August 17, 2009] LAWNDALE -- Lois A. Kennett, 77, of Lawndale, died Saturday, Aug. 15, 2009, at St. John's Hospital in Springfield.
Visitation will be 5-8 p.m. Tuesday at Holland Barry & Bennett Funeral Home. Her funeral will be at 10 a.m. Wednesday at the funeral home, with Ron Otto and Brandon Boyd officiating.
Burial will follow in Lawndale Cemetery.

Lois was born July 19, 1932, to Paul and Carrie Stout Purdue. She was raised by Lewis and Lilly Stout and thought of them as her parents. She married Everett Kennett on Oct. 29, 1950, at Lincoln Christian Church. They were the last couple to be married by Earl C. Hargrove. Together they shared nearly 60 years of marriage.

She is survived by her loving husband, of Lawndale; four sons, William (and his wife, Sharon) Kennett of Broadwell, Mark (and his wife, Tamara) Kennett of Emden, Tim (and his wife, Tami) Kennett of Lincoln and Douglas Kennett of Lawndale; one daughter, Karen (and her husband, Jerry) Birdwell of Lincoln; eight grandchildren; seven great-grandchildren; and one sister, Idona Akers of Lincoln.

She was preceded in death by her parents and her brother, Gerald Purdue.

Lois was a faithful member of Lincoln Christian Church and worked in the church nursery for many years.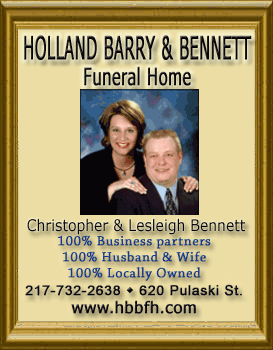 Memorial donations may be made in her name to the Harvest of Talents for World Hunger ministry at Lincoln Christian Church or to the Lincoln Christian Church nursery and will be accepted at the funeral home.
Click here to send a note of condolence to the Kennett family.