Duane 'Bugs' Baumbach

Send a link to a friend
[August 27, 2009] MOUNT PULASKI -- Duane R. "Bugs" Baumbach, 76, of Mount Pulaski, died Wednesday, Aug. 26, 2009, at 10:45 p.m. at Vonderlieth Living Center.
His funeral will be at 11 a.m. Monday at St. John's Lutheran Church in Mount Pulaski, with the Rev. Frank Pieper officiating. Visitation will be at the church two hours prior to the service.
Burial will be in Mount Pulaski Cemetery.
Fricke-Calvert-Schrader Funeral Home is handling arrangements.
Mr. Baumbach had been a typesetter for the St. Charles Press in St. Charles, Minn.
He was born Feb. 11, 1933, in Sparta, Wis., a son of Reuben R. and Theressa C. Kronberg Baumbach.
He is survived by one sister, Elinor (and George) Meyer of Rochester, Minn.; two brothers, Roger Baumbach of St. Charles, Minn., and Loren (and Mary) Baumbach of Northfield, Minn.; and sisters-in-law Eleanor Baumbach of Minneapolis, Minn., and Barbara Baumbach of Duluth, Minn.
He was preceded in death by his parents, two sisters and four brothers.
He was a member of St. John's Lutheran Church in Mount Pulaski.
He had been a crossing guard at Mount Pulaski Grade School and also worked at Mount Pulaski Township Library.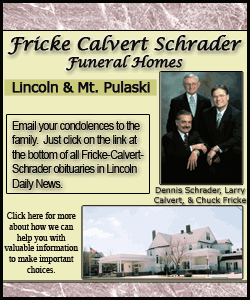 Memorials may be made to St. John's Lutheran Church or Mount Pulaski Emergency Management Services.
Click here to send a note of condolence to the Baumbach family.