David Sawyer

Send a link to a friend

[August 28, 2009] SPRINGFIELD -- David King Sawyer, 77, of Springfield, died Wednesday, Aug. 26, 2009, at Memorial Medical Center.

His funeral will be at 11 a.m. Saturday at Holland Barry & Bennett Funeral Home in Lincoln with Chaplain Tom Novy of Lewis Memorial Christian Village in Springfield officiating. Visitation will be from 9 to 11 a.m. at the funeral home.

Burial will be in Union Cemetery, Lincoln.
Mr. Sawyer was production control foreman at McDonnell Aircraft in St. Louis, Mo., for many years.
He was a U.S. Air Force veteran.
He was born Nov. 14, 1931, in rural Macoupin County to George H. and Santina Baggio Sawyer. He married Kay Hahn on May 2, 1954, in Lincoln.
He is survived by his loving wife, of Springfield; his daughter, Diane Hoots of New Berlin; his son, Mark (and wife Nancy) Sawyer of Niwot, Colo.; his brother, Louis J. (and wife Betty) Sawyer of Dorchester; and three grandchildren, Beth Hoots of Springfield, Kendall Sawyer of Niwot, Colo., and Madeline Sawyer of Niwot, Colo.
He was preceded in death by his parents.
He was an avid golfer and outdoorsman.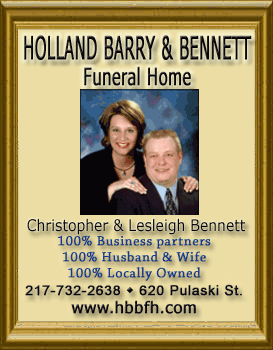 Memorial donations may be made in his memory to the American Diabetes Association and will be accepted at the funeral home.
Click here to send a note of condolence to the Sawyer family.