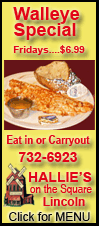 The win Tuesday against C-EL was a total team effort for the Lady Wolverines. They were led in scoring with 16 points by Michelle Paulus, who was also 8 of 9 from the free-throw line.
Lexee Klockenga, nicknamed "Puma" for her coy tactics, grabbed 12 steals and also followed in scoring with nine points. Livvie Muck added four points, Alex Turner added three, and Kaylyn Hoffert added two points
The Lady Wolverines got help from their young bench as well. Kate Benner, Brooke Soebbing and Jordan Wood chipped in a combined six points.
The Lady Wolverines will be back in action Thursday night at 6 against Springfield Christian.
Congratulations, Lady Wolverines!
[Text from file received from Kaelyn Froebe]