Visitation will be 5-7 p.m. Friday at Holland Barry & Bennett Funeral Home.

Her funeral will be at 10 a.m. Saturday at Faith Lutheran Church in Lincoln, with Pastor Mark Peters officiating.

Burial will be in Harmony Cemetery, Beason.

Rosemary was born Sept. 22, 1923, at Burton View, a daughter of Dorcus and Bessie Gallagher LaForge. She married Harold Apel on Dec. 23, 1945, at the First United Methodist Church in Lincoln. He preceded her in death on April 27, 2009.

She is survived by three sons, Gary (and wife Mary) Apel of Bourbonnais, Gene Apel of Lincoln and Garret (and wife Jill) Apel of Beason; one daughter, Gail Apel-Sasse (and husband David) of Beason; grandchildren Nathan Sasse of Chestnut, Abrigail (and husband Doug) Temple of Fulton and Kristine Apel of Beason; stepgrandchildren Chad (and wife Deb) Blake Bourbonnais and Eric (and wife Peggy) Blake of Bourbonnais; three step-great-grandchildren; a sister-in-law, Catherine Apel of Atlanta; and cousins David LaForge of Lincoln, Bernadine Douglass of Texas, Eleanor Crum of North Carolina, Wayne LaForge of New Holland, William "Bill" LaForge of Lincoln, Helen Cecil of Lincoln, Bonnie Gambrel of Springfield, Mary Catherine Fletcher of Lincoln, Leslie Ann Gallagher and Sharon Smith.

She was also preceded in death by her parents.

Mrs. Apel was the Sunday school secretary for Zion Lutheran Church in Lincoln for many years. She was a charter member of Faith Lutheran Church in Lincoln and served with the Dorcas Guild. She was also involved with Vacation Bible School and Sunday school at Faith.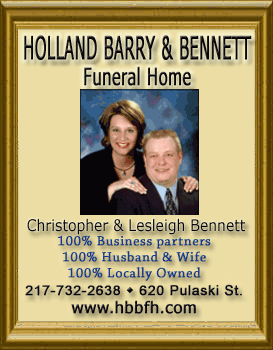 She was the treasurer for Logan County CROP for many years, a member and officer of the Oran Township Home Bureau, and was co-leader of the Cloverdale 4-H club.
She graduated from Fairland School in Burton View and from New Holland High School. She received a degree in vocal music from Lincoln College.
After graduation she taught at Musick School in Lincoln, a one-room school for grades K-8. While she was a teacher, she was employed at State Bank of Lincoln during the summer.
Above all else she was a devoted wife, mother and grandmother. She enjoyed baking and sharing those treats with the people she cared for. Baking was her language of love.
In lieu of flowers, memorial donations may be given to Faith Lutheran Church, Zion Lutheran School or Memorial Home Hospice.