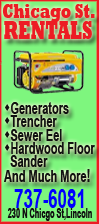 The Bearcats offensive coordinator became interim coach last week when Brian Kelly left for Notre Dame. Quinn is in charge of getting Cincinnati (12-0) ready to play Florida in its first Sugar Bowl appearance.
The 47-year-old Quinn has been a head coach for only one game. He was Kelly's top assistant at Central Michigan three years ago when Kelly left to take the job at Cincinnati. Quinn stayed behind and led the Chippewas to a 31-14 win over Middle Tennessee State in the Motor City Bowl.
Then, he joined Kelly in Cincinnati. He has been one of Kelly's assistants for the past 22 years, coaching linemen and coordinating the no-huddle, spread offense that is one of the nation's best.
Quinn said on Tuesday that he couldn't discuss Cincinnati's search for its next coach, but stressed that he is a candidate.
"I have expressed genuine interest in being the next coach," he said.
For now, Quinn has to try to get his players in the right frame of mind to play Florida. Many of them were angry and shocked when Kelly told them after their annual football banquet last Thursday that he was leaving. Kelly had told the team a week earlier that he liked it in Cincinnati, and even went on a radio show and said he was staying.
The players haven't been together since the banquet. They are scheduled to get together on Wednesday, then have a few days of practice before taking a break and heading to New Orleans for the bowl game. No players were available on Tuesday when Quinn met the media for the first time since being promoted to interim coach.
"Our focus is to congratulate them for being 12-0 and getting them ready for the Sugar Bowl," Quinn said. "We've circled the wagons.
"Sometimes, it feels like you're drinking water through a fire hose. We have to get their minds off the process of who is the next coach and focus on the task at hand. The message isn't changing. It's just coming from a different voice."