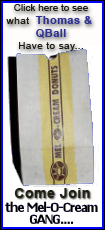 Carter was thrust under the courtside seats on a hard hit by Ersan Ilyasova late in the third quarter that gave Orlando a brief scare. The Magic's star shooting guard shook off the pain and never exited, igniting a 17-2 run that helped them pull away.
Dwight Howard had 17 points and 10 rebounds, and Jason Williams added 16 points to help Orlando rebound from its Christmas Day loss to Boston.
Brandon Jennings had 20 points, and Andrew Bogut had 15 points and 10 rebounds for the Bucks, who lost for the seventh time in their last eight games.
Carter's big collision was the Magic spark.
Ilyasova was trying to take a charge but was called for a block. Carter clutched the right side of his neck and grimaced, pulled his jersey over his head, lying on the ground four rows from his mother in the stands.
The arena fell silent. Fans sitting in the area checked to see if they could help. Nearly everyone stood to see how hurt Orlando's star offseason acquisition was. About 3 minutes later, still shaken, he finally stood up.
Then so did the Magic.
Perhaps ignited that Carter never left the game, the Magic scored 13 straight points during the 17-2 run to end the quarter with a 79-74 lead. Carter made two jumpers during that stretch, and Matt Barnes hit a pair of 3-pointers.