Send a link to a friend

[February 12, 2009] HARTSBURG -- Leo M. Ubbenga, 88, of Hartsburg, died Wednesday, Feb. 11, 2009, at 9:30 p.m. at Lincoln Christian Village.

Visitation will be 2-4 p.m. Sunday at Fricke-Calvert-Schrader Funeral Home in Lincoln, with the Rev. David Russell officiating.

His funeral will be at 10:30 a.m. Monday at St. John's Lutheran Church in Hartsburg.

Burial, with military rites, will be in Hartsburg Union Cemetery.
Mr. Ubbenga was retired from farming in the Hartsburg area.
He served in the U.S. Air Force during World War II.
He was born July 1, 1920, at Hartsburg to Henry R. and Rena Klockenga Ubbenga. He married Gladys Rademaker on July 30, 1941.
He is survived by two daughters, Nancy (and Don) Boudeman of Armington and Linda (and Don) Hughes of Hanna City; one brother, Robert Ubbenga of Hartsburg; one sister, Catherine Apel of Atlanta; five grandchildren, Dr. Brian (and Jodie) Hughes of Mount Vernon, Dr. Brad (and Stephanie) Hughes of Springfield, Kim (and Larry) Koch of East Peoria, Matt (and Lindsey) Boudeman of Atlanta and David (and Jenna) Boudeman of Armington; and 11 great-grandchildren.
One brother, George Ubbenga, preceded him in death.
He was a member of St. John's Lutheran Church and the Lutheran Brotherhood. He served in various offices of the church and was a Sunday school teacher for 12 years.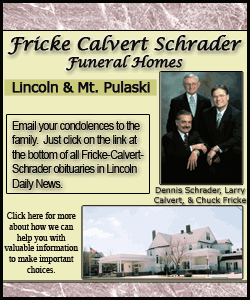 He was also a member of Logan County Farm Bureau and Hartsburg American Legion 1146, where he served as post commander.
Leo was a devoted husband and father. He enjoyed his grandchildren and family activities.
Memorials may be made to Hartsburg Fire and Rescue, St. John's Lutheran Church, or the American Heart Association.
Click here to send a note of condolence to the Ubbenga family.