Railer Roundball
Benjamin comments on Railers' No. 1 seed in tournament
By Jeff Benjamin

Send a link to a friend
[February 13, 2009] Is it just me or is there something that seems very fitting that the best way to celebrate the 200th anniversary of Abraham Lincoln's birthday would be for a high school from the city he christened to win the state title?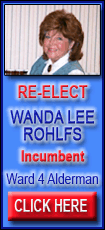 Well, there are still a lot of games to be played by the Railers between now and a date in Peoria. However, late Thursday afternoon, the process began to take shape as the IHSA released the seeds for the 3A regionals from around the state of Illinois.

Obviously, it was no surprise that the Railers (22-3) were voted the No. 1 at the Bloomington Regional. The other seeds are No. 2, Mahomet-Seymour; No. 3, Bloomington; No. 4, Normal U-High; and No. 5, Rantoul. It would seem easy to determine the pairings based on normal seeding procedures. We are, however, dealing with the IHSA, so nothing is certain until the pairings are released sometime on Friday.

The Railers are part of the Decatur Sectional, which also includes the regionals to be played in Springfield, Champaign and Decatur. Here are how the other regionals seeded out:

Springfield Regional
Southeast

Springfield

Lanphier

Jacksonville

SHG
Champaign Regional
Champaign Centennial

Champaign Central

Danville

Urbana
Decatur Regional
Decatur MacArthur

Chatham Glenwood

Decatur Eisenhower

Mount Zion

Taylorville
If all four No. 1 seeds -- Lincoln, Centennial, Southeast and Decatur MacArthur -- win their respective regionals, there will be some rather good basketball teams making a tough-to-predict final four at the Decatur Sectional.
First things first, though, as the Railers are still in a battle to win the Central State Eight, and that will continue on Friday night as Lincoln plays host to SHG.
Tip time is scheduled for 7:30 and, of course, you can catch the game on lincolndailynews.com.
A reminder: In Saturday's edition, look for not only a recap of Friday night's game, but all the pairings of interest as they relate to the Railers' possible road back to Peoria.
[Special report by JEFF BENJAMIN]