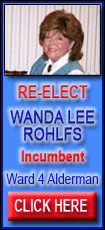 Truthfully, however it happened, all I know is that somehow, some way the Illinois Fighting Illini may have lost their scalps, but they managed to escape beautiful downtown Evanston and Northwestern 60-59 last night somewhere along the lake front. I have no idea how they accomplished the feat... Perhaps going back through my notes will help, but I doubt it. I was actually thinking if I left early I could avoid the Wildcats' wild celebration and miss most of the traffic. I was sorta trapped in the location I was in and basically had no choice but to stay.

Actually, it all started for me several weeks or months ago. Because of the location and proximity to a few Big Ten venues, I thought it might be a good idea to travel around a little bit and see the "Men in Orange" on the road a couple of times if possible. That has not proven to be a pleasurable experience most of the time I tried it in the past, and this season was no exception. I had pretty much decided that I would not pursue that endeavor the rest of the year, but then my 8-year-old son stepped in (Payne has an uncanny record of getting his team wins when he is in the house).
He simply asked if I would take him to a road game sometime. And if the truth were to be told, I thought it might be pretty hard to get tickets to the games he was thinking about, including last night's woolly affair at Northwestern. After exchanging some e-mails with a fellow Illini fan on one of the message boards (thanks, Rob!) I finally traded two tickets for an upcoming Illini home game for tickets to Thursday night's contest versus the Wildcats. He had an extra ticket (or two) which allowed Payne and me to take some friends (former Lincoln residents Scott and Jordan Fulk). What seemed like a great idea all along didn't seem too great with Illinois staring down a 14-point deficit at 51-37 with 11:16 minutes and seconds to go.
Frankly, it seemed even worse a few minutes later because the Illini had gained some ground but had wasted some possessions too, and if you were honest with yourself, you had to wonder if there was enough time for the Illini to pull off the comeback. To tell you the truth, it just didn't appear likely that Illinois would pull out the win, as they still trailed the vastly improved 'Cats 57-50 with 3:42 to play. Then, Kevin Coble, one of my favorite players in the Big Ten, hit an acrobatic shot that put NW up 59-50, and candidly, I thought we were dead.
But in games and situations like this, I love being wrong. Maybe the stars would align? Maybe the tides along the lake would change and allow some of our shots to go in? Maybe the sheer will of a raucous Illini Nation that was out in full force on a school night would energize the team enough to give 'em a chance? Who knows what would happen if...?
The stat sheet will tell you directly that Trent Meacham got clobbered and converted a conventional three-point play, cutting the lead to six. Jeremy Nash then had a shot blocked by Calvin Brock, and Illinois had a big trip down the floor. I would be dishonest with you if I didn't tell you that the air almost went out of the Illini balloon when Mike Davis clanged a shot hard off the board. He thought he got fouled, but I'm not so sure, and I felt our chance might be slipping away. We did employ a tenacious press the rest of the way that I personally would like to see more of, but that's another story for another day.
After Craig Moore turned it over for the Cats, Trent Meacham slithered into the far corner and hit the prettiest rainbow, lollipop triple that you could ever see, and dramatically the Illini were within three. When Moore turned it over again, Meacham, who by this time was a man possessed, made a strong drive to the hoop and hit the layup to put Illinois improbably within one.
I must sincerely tell you that there were still 42 seconds to play, and the way that Northwestern had shot the ball all night, and the way that they make free throws, the contest was still open and up in the air. When Michael Thompson had his shot blocked by Trent Meacham, you weren't surprised, because straightforwardly he had put on the cape minutes before. Coach Weber called a 30-second timeout, and you truthfully wondered what would happen next.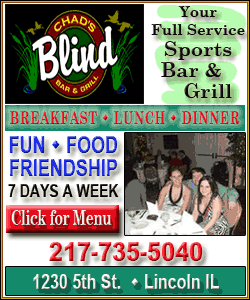 The skeptics and the haters always remember last season and even the season before and think that we'll just dribble around and fire up some forced herniation in desperation. But honestly, I've been around this team a lot during the Weber years. I trust Bruce Weber and his assistants. I know how hard they work and I know how much they care. One thing they really work hard on is quick hitters, or what some people call set plays. They also work diligently on reading defenses ... and if the defense takes away this, they will try to strike with that.
If I wasn't so hostile and abusive, I knew we'd come up with a great play out of the timeout, honest Injun. I remember the play coach Weber drew up in San Diego when we had a game stolen from us in the NCAA tournament. It was a variation of a tricky little inbounds play that Weber likes to run. It appeared to work beautifully except that Brian Randle got too far under the backboard and took what looked like a sure layup and shot it into the foam that borders the glass. The Illini went down that fateful day in California, but how would they fare this time?
As the ball came in to Demetri McCamey, he had nowhere to go. He gave it to Meacham, and after his performance over the previous five minutes (where he scored 12 of his 15 points), he drew a swarm. Showing the poise of a senior leader, he shuffled it back to McCamey, who rose to fire. From my viewpoint it almost looked like he called "bank" before he released the shot. If he didn't, I did, and the Illini had taken the first lead of the game 60-59. The Cats had no timeouts left, so they had to get it in quick and just launched a desperation heave that drew no iron, and a delirious celebration broke loose.
To be straight with you, the gang from Lincoln was right in the middle of it (we had seen former Lincoln resident Nadir Khan earlier), but then we couldn't find him in the crowd pileup. The noise level exploded, and people stayed around to lavish their heroes with praise, even though minutes before they all would have had a completely different reaction.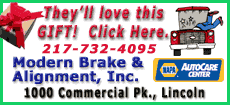 The stats will tell you a lot more things -- how many points each guy had and what team won the battle of the boards and so on -- but here's the truth of the matter: Illinois did not deserve to win the game. Northwestern played brilliantly. Coach Carmody, his staff and his players need to be commended on how much they have improved. If they can survive this and not have their spirit broken, they will still do some damage in the league and maybe in the Big Ten Tourney. The Wildcats deserved a better fate. This is a season where I'd like to see them get to a postseason tournament and do well. But on this night, it was not to be.
I wish I could tell you that the stats tell the whole story, but that would be untrue.
Honestly, I have no idea how Illinois pulled out a 60-59 squeaker. All I know is that I think ol' Abe would've loved it, and I know I did! To tell the truth, I'm still celebrating!
[By JEFF MAYFIELD]
Respond to the writer at jeffmayfield@centralwired.com.