First, they got the win, as well as getting the chance to play a team they would not normally run across until state tournament play. Also, the Railers were provided the opportunity to see how officials from downstate would call a game.
The contest was very physical, but the Railers were the beneficiary of the number of calls, as they went to the line 18 times compared with five for Carbondale. Is that to say the game was officiated in favor of the Railers? Not necessarily, as Lincoln made a concerted effort to get the ball down low, take the ball to the basket and force contact. As the aggressors, Lincoln got to the line more.
If you are familiar with my writings on the Railers, you know I like to talk about the Railer Runs. Saturday was filled with those runs as Lincoln, the No. 8 team in Class 3A in this week's poll, had runs of seven or more in each quarter. In fact, Lincoln scored 35 of their 55 points (64 percent) during these four runs. The most productive run for Carbondale -- five.
As Lincoln (24-3) and their fans have seen before, it was one of those games where senior Kyle Young had no equal on the inside. The only time something good didn't happen for Young when he got the ball down low was when he decided to pass off and continue running the offense.
Young scored Lincoln's first five points and then hit a shot down low to put the Railers up for good at 10-9. Sophomore Jordan Nelson rounded out the first quarter scoring with two from 3-point range to extend the lead to 16-9 at the end of the first quarter.
The scoring in the second quarter, at least early on, was all Carbondale. Five in a row from the Terriers cut the Railer lead to 17-16. The Railers went over five minutes before scoring their first points of the period. However, another Railer run to end the quarter, four from Kyle Young and a pair of free throws from Ben Brackney, put the halftime lead for the Railers at 24-16.
The free throws from Brackney were his only scoring of the night. His biggest contributions were his rebounding, especially on the defensive end, and his ability to break the Carbondale press and provide a substantial amount of ballhandling.
Young led the Railers at halftime with 13 points.
As we've seen too many times, the third quarter did not start in good fashion for the Red and Green. Carbondale (14-9) jumped out early with a quick four-spot and cut the eight-point lead in half. A free throw from Kyle Young was followed by a Terrier free throw to keep the lead at four.
Alex Anderson, who has really made his mark over the past two games, and had a 3 in the first quarter and continued his marksmanship by drilling two more from long range to stretch the Lincoln lead to double figures for the first time at 31-21.
Another easy basket from Kyle Young was followed up by a 3 from Louie Schonauer and a layup from Jordan Nelson and, just like that, Lincoln was in control 38-21 thanks to the 13-0 run.
The fourth quarter started with Lincoln on top 40-26, and for the rest of the game, Carbondale got no closer than 12. The final eight minutes belonged to Louie Schonauer and sophomore Nathaniel Smith. Schonauer had six in the quarter, while Smith, on a basket and five free throws, scored all seven of his points in the quarter.
The Lincoln defense was stifling on this night. Carbondale was forced into mistake after mistake and, just like the night before against SHG, the Railers were able to take advantage of their opponents' miscues.
As mentioned, Kyle Young led the way with 18 points, followed by a nice balance of scoring as Louie Schonauer and Alex Anderson added nine points. Jordan Nelson scored eight, while Nathaniel Smith had seven. Kyle Frick and Ben Brackney each scored two, while Wes Neece played, didn't score but certainly made his presence known on the defensive end.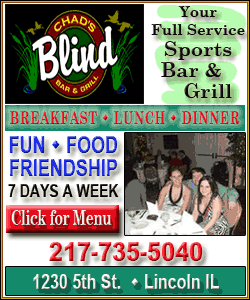 So, all in all, a good trip to Carbondale. Other than a bus driver who followed the speed limit (if that limit was 55, so nothing like getting to the gym at 5:45 for a 6:15 JV start) and a wardrobe misplacement for one of our coaches, it was a fun way to spend Valentine's Day 2009. Hey, if nothing else, I can always remind my wife that I took her on a trip for Valentine's Day. Too bad for her, she had to be trapped in a car with me during the long ride.
It is hard to believe the regular season has only three games left, but two of those are at home. It seems just like yesterday we were getting ready for the first game of the year, just days before Thanksgiving. These next three are important as a conference title is at stake, but this team is looking at loftier goals. Not that the Central State Eight title isn't important, but this squad is looking at playing their last game of the season not in Bloomington or Decatur or Springfield. This team wants to see if it will play in Peoria, and if it can play in Peoria, anything can happen.
The Lincoln JV lost their contest 55-44.
Lincoln will be in action again on Friday as they hit the road for the final time in the regular season and will take on the Lions from Springfield Lanphier. The contest is scheduled to tip around 7:30 p.m. and, as always, you can catch the game on WLCN-FM 96.3 and here at lincolndailynews.com.
___
LINCOLN (55) -- Young 6 6-8 18, Schonauer 3 2-3 9, Anderson 3 0-0 9, Nelson 3 0-0 8, Smith 1 5-5 7, Brackney 0 2-2 2, Frick 1 0-0 2, Neece 0 0-0 0. Team 17 15-18 55.
3-point FG: Team 6 (Anderson 3, Nelson 2, Schonauer).
Carbondale (39) -- McDade 12, Neal 11, Woodson 7, Wheeler 6, Blaise 2, Warren 1.
End of first quarter -- LCHS 16, Carbondale 9
Halftime -- LCHS 24, Carbondale 16
End of third quarter -- LCHS 40, Carbondale 26
[Special report by JEFF BENJAMIN]