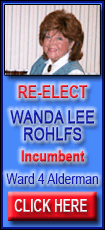 Ameritrade announced the stock purchase agreement Wednesday morning before its annual shareholder meeting.
Ameritrade agreed to pay the Ricketts family $11.85 per share. After the transaction, the Ricketts family stake in the company will shrink from about 22 percent of Ameritrade's stock to about 17.7 percent.
The Ricketts family will control two seats on Ameritrade's board instead of three after the deal.
Last month, the Cubs' owners at Tribune Co. chose to enter exclusive negotiations with the Ricketts family.
___
On the Net:
TD Ameritrade Holding Corp.: http://www.amtd.com/