WLNX, Relay for Life, youth archery, Quilters at Heart, parent-child book club and Parkinson's support group in Close Up
By Mike Fak
[February 20, 2009] Lincoln College's student run radio station WLNX FM 88.9 (89X) will again offer a weekly Spanish-Speaking program entitled "Encuentros" (English: Encounters). The one hour program airs at 12:00 noon every Sunday, featuring Spanish music, news, and human interest stories.
The program is being produced by instructor Maria Bailey's Spring 2009 semester "Conversational Spanish" class at Lincoln College. Students are producing the program for college credit. "We did a program like this last year on WLNX," Bailey said. "The kids really do increase their Spanish vocabulary skills by using this show as a tool."

WLNX General Manager John Malone agreed with Bailey, "I'm thrilled to have our students providing a service like this to Lincoln and the surrounding area. I think the dual purpose of learning while doing provides a valuable educational experience and lets them have some fun while they are learning."

The program will also be heard live on the WLNX internet stream at www.wlnxradio.com.
---

10 teams are currently signed up for the Relay for Life of Logan County, but we know there are at least 31 others of you that are still needing to do that. Therefore, as encouragement, we are having a prize drawing (prize presented from Springfield Office) that you will be enrolled in if you have your team registered by midnight this Sunday, Feb. 22!! You don't need to have all team members signed up at that time, just the initial team registration, which requires only the team captain's information. The instructions are in your packets, but if you need help completing the registration, call Carolyn Motley (732-8032) or Debbie Cooley (732-7789).
Register on-line at:
www.relayforlifelogan.com.
---

Youth Archery registration has begun for 2009! Y instructor, Dave Duvall, is back to teach proper technique and improve skills for the local archers. Children in 3rd – 6th grade can sign up at the Y office. New this year is a bear decoy for participants to shoot, along with the classic targets and deer decoy! Be sure to sign up NOW, slots are filling up fast.
---

The Quilters at Heart Quilt Guild will hold their monthly meeting at 7:00 pm on Thursday, February 26th at Trinity Episcopal Church located at 402 Pekin Street. Jeanne Xamis from Serendipity Stitches will speak at the meeting and show her handbags. For additional information, please contact Stacie Wachtel 217 732 7029.
---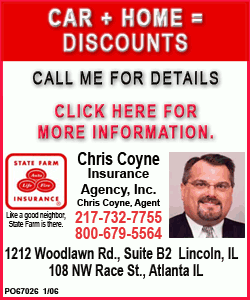 Parent-child book club
There will be an organizational meeting on March 2 at 4 p.m. for anyone interested in a reading club for a parent (or grandparent, aunt, uncle, etc.) and child to join together. Participants themselves will determine book choices, dates and time to meet. Let us know what you would like to read and discuss!
---

Parkinson's Support Group
Monday, February 23
7 p.m.
Abraham Lincoln Memorial Hospital
Lincoln Conference Room
Questions? Call group leader Cliff Sullivan at 732-2539.
---
Got a good piece of news, information or something that we can all brag about? If you do, e-mail Mike and let us tell everyone about it. Plus you can win cash. Every submission, whether we use it or not, will get your name in the "Close Up" grab bag. At the end of the month we will draw a name and someone will get $25.00 just for dropping us an e-mail. If you wish, we will be happy to donate your winnings to the organization of your choice.
You can contact Mike at mikefak@lincolndailynews.com.
[By MIKE FAK]