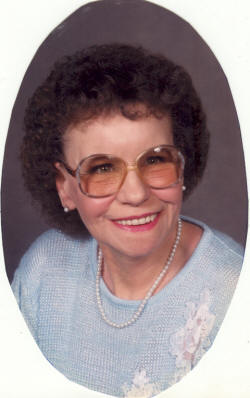 Lulu Belle Hunter

Send a link to a friend

[February 23, 2009] Lulu Belle Blanche Hunter, 73, of Lincoln, died Saturday, Feb. 21, 2009, at 3:05 p.m. at St. Clara's Manor.

Visitation will be 4-7 p.m. Tuesday at Fricke-Calvert-Schrader Funeral Home in Lincoln. Her funeral will be at 10:30 a.m. Wednesday at the funeral home, with the Rev. Mark Peters officiating.

Burial will be in Union Cemetery.

Mrs. Hunter had been a packer for Ball-Incon in Lincoln.
She was born Oct. 18, 1935, at Groveland to Clifton and Lela B. Ritter Luncsford. She married Robert D. Hunter on Dec. 22, 1950, in Peoria. He preceded her in death on Feb. 18, 1978.
She is survived by one son, Robert D. (and Connie) Hunter of Lincoln; two daughters, Lou Ann (and Richard) Newman of Lincoln and Lorie Snyder of Chestnut; one brother, Richard (and Diane) Luncsford of Bellevue; one sister, Loretta Nelson of Peoria; eight grandchildren; and six great-grandchildren.
She was also preceded in death by her parents; two daughters, Wanda Huskins and Vicki Sue Hunter; one sister, Lillian Brooks; and two grandchildren, Donald Heidbreder Jr. and Nicole Marie Jones.
She was a member of Faith Lutheran Church of Lincoln.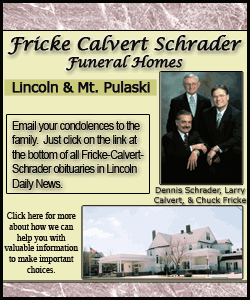 Memorials may be made to the donor's choice.
Click here to send a note of condolence to the Hunter family.