Well, if this is how the Railers stack up against some of the best in the state, it could potentially be a very prosperous March for the Railers. After a very evenly played first half, an absolutely dominant defensive second half led Lincoln to a 48-33 win and cleared the way for the CS8 showdown coming up Friday night.
Everyone at Roy S. Anderson got an early look at things to come as sophomore Jordan Nelson put the Railers on the board with a 3-pointer. An alley-oop from Louie Schonauer to Kyle Young gave Lincoln a 5-0 lead, and it seemed like it was going to be a long bus ride back to Moline.
However, coach Ryan Webber's squad settled down -- enough in fact to score the next six points and take their first lead of the night. Offensively, Moline (19-5) was able to use patient offensive sets and crisp interior passing to befuddle the Railer defense. Each time the Railers would score, Moline would come down to tie, or at 11-10, take the lead. A 3 from Alex Anderson gave Lincoln a 13-11 lead, but Moline again scored to knot the game at 13 at the end of the first quarter.
There were two stories in the second quarter: Jordan Nelson and the Moline shooting. Let's start with the latter.
Moline did not have an offensive rebound in the quarter. Why? you may ask. Well, if you don't miss, there are no offensive rebounds. The Maroons followed up their 5-of-8 shooting in the first by going a perfect 5-for-5 in the second quarter. Moline held themselves to only 13 shots in the first 16 minutes, but if you can shoot 77 percent, you will take that every night.
Speaking of something we could take every night, there's the 3-point barrage from Jordan Nelson. The sophomore scored all 12 of the points for the Railers (26-3) in the second quarter. Nelson hit while spotting up, on the move, from behind screens, and when he rained in his final 3 in the closing seconds of the quarter, he sent his team into intermission with a 25-23 lead.
Remember how many offensive rebounds Moline had in the second quarter? Well, that's how many field goals they had in the third quarter -- zero. After tying the game on a pair of free throws, Moline became just another victim of a Railer Run, this one a 13-3 spurt that gave Lincoln a 38-28 lead at the end of three.
Kyle Young had six of his points in the quarter, along with another 3 from Jordan Nelson, a basket from Ben Brackney and a pair of free throws from Alex Anderson. The Lincoln defense held Moline to just five free throws in the quarter.
In the fourth, it was more of the same from the Lincoln defense. Moline finally hit a field goal with 3:07 to go, their only made basket of the half. That 3-pointer brought Moline to within 41-33, but that was the last they would score, as Lincoln finished the game on another run of 7-0.
As well as Moline shot in the first half, the second half was just as bad, if not worse. It's hard to stay in a game when you shoot 6, yes, 6 percent (1-15) from the field.
In the end, this game was all about the Lincoln defense. The Railers forced 11 turnovers and held a team to a single-digit shooting percentage in the second half as well as only 10 points in the final 16 minutes.
Moline did not substitute very much, as four players played all 32 minutes. In an unusual move, Lincoln coach Neil Alexander had three players (Nelson, Brackney and Young) on the court for the entire game.
"It was just the way it worked out," Alexander said. "I'd love to play all the players, but the game sometimes dictates differently. I wanted to sub, but the team on the floor was doing so well, I didn't want to break it up."
Jordan Nelson led the way with 20 points, followed by Kyle Young with 12 and Ben Brackney with eight. Alex Anderson scored five, while Louie Schonauer added three.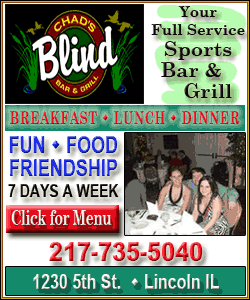 So now the attention turns to Southeast. The Spartans handily defeated Jacksonville on Friday, before being knocked off by Champaign Centennial on Saturday night 86-67. It all comes down to Friday -- winner-take-all for the Central State Eight title. The Railers feel like they have some payback after watching a 16-point lead disappear in the earlier matchup as Southeast came away with an overtime victory.
In the opener, the Lincoln JV was able to jump out to an early 32-16 lead. Unfortunately, they could not hold that lead as the Moline JV outscored them 40-17 to pick up the win 56-49.
Lincoln will be in action for the final time in the regular season on Friday as they welcome in the Spartans from Springfield Southeast. The game will be for the Central State Eight championship and it will also be Senior Night, so make your plans to be at Roy S. Anderson early. The contest is scheduled to tip around 7:30 p.m. and, as always, you can catch the game on WLCN-FM 96.3 and here at lincolndailynews.com.
___
LINCOLN (48) -- Nelson 7 0-0 20, Young 5 2-3 12, Brackney 2 4-4 8, Anderson 1 2-2 5, Schonauer 1 0-0 3, Smith 0 0-0 0, Neece 0 0-0 0, Frick 0 0-0 0. Team 16 8-9 48.
3-point FG: Team 8 (Nelson 6, Anderson, Schonauer).

Moline (33) -- Lindauer 9, Townsend 9, Wismer 8, Blondell 7.
End of first quarter -- LCHS 13, Moline 13
Halftime -- LCHS 25, Moline 23
End of third quarter -- LCHS 38, Moline 28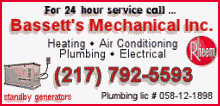 Other notes:
The six 3s for Jordan Nelson sets a career high for a game. It bests his previous high of five, which he last accomplished Jan. 21 against Highland. (Hmmm, five 3s on Jan. 21, six 3s on Feb. 21 -- makes you wonder what could happen on March 21. By the way, the Class 3A state title will be decided on -- you guessed it -- March 21.

Nelson has also hit for 70 3s this season. That ties him for 12th-most in a season with Brandon Booth, done 20 years ago.

Louie Schonauer's 3 ties his season-high of 45 3-pointers set last season.

Current Railers continue to climb the all-time list for 3-pointers made. Jordan Nelson (117) is now ninth; Alex Anderson (109) is tied for 10th with Derek Schrader; Louie Schonuaer (91) is tied for 16th with Chuck Miller; and Ben Brackney (83) is now 19th.

The difference in the game was from behind the arc. Moline made three (nine points) while the Railers hit eight (24 points). Fifteen-point difference -- Lincoln wins by 15.

The Railers committed only seven turnovers, while assisting on 13 of their 16 field goals.
[Special report by JEFF BENJAMIN]