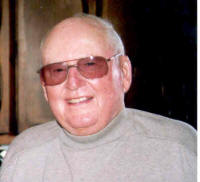 Carl Schwantz

Send a link to a friend
[February 25, 2009] Carl Herman Schwantz, 82, of rural Lincoln, died Tuesday, Feb. 24, 2009, at 9:11 a.m. in the emergency room at Abraham Lincoln Memorial Hospital.
Visitation will be 4-8 p.m. Thursday and 9:30-10:15 a.m. Friday at Zion Lutheran Church in Lincoln. His funeral will be at 10:30 a.m. Friday at the church, with the Rev. Mark Thompson officiating.
Burial will be in New Union Cemetery. Military rites will be conducted by American Legion Post 263.

Arrangements are by Peasley Funeral Home.

Mr. Schwantz was the third generation of his family to be a career farmer. He raised cattle his entire life.

He served in the U.S. Army from 1951 to 1953 and was stationed in Germany with the 1st Infantry Division of Signal Corps.

He was born Oct. 25, 1926, in Lincoln, to Charles William and Della Werner Schwantz. He married Carol Irwin on April 18, 1954, in Lincoln.

He is survived by his wife; his children, Karen Schwantz of Lincoln, Linda (and Gary) Severson of Bloomington, Herman (and Sara) Schwantz of Lincoln and Eric Schwantz of Lincoln; and three grandsons, Paul, Porter and Peyton Schwantz.

One brother, Paul, preceded him in death.

He was a member of Zion Lutheran Church, where he served as an elder and assistant Sunday school superintendent. He was a member of American Legion Post 263, served on the LCHS Board of Education for 22 years and was a trustee of the regional school board for many years. He was a member of the Illinois Beef Association and was assistant superintendent of the Junior Livestock Show of the Logan County Fair Association for over 50 years.
He graduated from Lincoln Community High School in 1944.
He enjoyed sharing his love of farming and his many experiences traveling abroad. He loved history, hunting and was an avid reader. He will be greatly missed.
Memorials may be made to Zion Lutheran Church or Zion Lutheran School, both in Lincoln, or an organization of the donor's choice.
Click here to send a note of condolence to the Schwantz family.