Ruth Dierker

Send a link to a friend
[February 28, 2009] Ruth Hinkley Dierker, 90, of Lincoln died peacefully Friday, Feb. 27, 2009, at 3:45 a.m. at St. John's Hospital in Springfield.
To celebrate God's goodness to Ruth, visitation will be held at Zion Lutheran Church in Lincoln from 3 to 6 p.m. Monday and noon to 1 p.m. Tuesday. Her funeral service will follow at 1 p.m. at the church.
Arrangements are by Fricke-Calvert-Schrader Funeral Home in Lincoln.
Mrs. Dierker was a retired teacher. She first taught in Jacksonville, Fla., where she met her husband, who was stationed at Jacksonville Naval Station. They later moved to Lincoln, where they established their home, and she continued her teaching career at Chester-East Lincoln Grade School, inspiring young kindergartners for 17 years.
She was born Oct. 20, 1918, in Orlando, Fla., the second daughter of Rush R. and Lydia C. Hahn Hinkley. She married Charles Raymond Dierker on June 4, 1944.
She is survived by her husband, Raymond; their three children, Carol (and husband John) Wieg of Hampshire, Janet Whiteside of Winter Park, Fla., and Richard (and Lisa) Dierker of Groveland; and six granddaughters, Carrie and Carleen Wieg, Allison and Amy Whiteside, and Kristin and Kayla Dierker.
One sister, Naomi Hinkley, and a son-in-law, Custer Whiteside, preceded her in death.
She was a member of Zion Lutheran Church in Lincoln and the Missionary Society, in which she held various offices. She was actively involved in the Lincoln Woman's Club and served as secretary. She received her 50-year LWC pin in 2004. She also served as president of the women's auxiliary of the Illinois Association of Mutual Insurance Cos.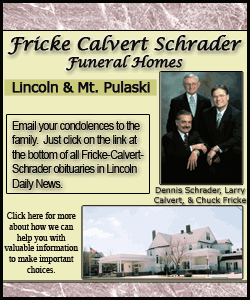 She graduated from New Smyrna Beach High School and Florida State University, where she received her bachelor's degree in elementary education.
She will always be remembered for her nurturing and teaching of the youth of Lincoln.
She enjoyed traveling with her husband, Ray, and cherished her time with her six granddaughters.
Memorials may be made in Ruth's memory to Zion Lutheran Church, Zion Lutheran School or Lincoln Christian Village.
Click here to send a note of condolence to the Dierker family.