George Sheley

Send a link to a friend

[February 28, 2009] George Elmer Sheley, 92, of Lincoln, died Saturday, Feb. 28, 2008, at 6:23 a.m. at St. Clara's Manor.

Visitation will be 4-7 p.m. Tuesday at Fricke-Calvert-Schrader Funeral Home in Lincoln.

His funeral will be at 10 a.m. Wednesday at the funeral home, with the Rev. Andrew Nyren officiating.

Burial will be in Zion Cemetery.
Mr. Sheley was a retired union carpenter and maintenance worker at the Odd Fellows Children's Home and Daycare.
He was born March 27, 1916, in Lincoln to Elmer C. and Georgia Sparks Sheley. He married Catherine E. Stoltz on June 19, 1939, in Hannibal, Mo. She preceded him in death on June 18, 2006.
He is survived by three sons, Ronald (and Faye) Sheley of Taylorville, Kenneth Sheley of Lincoln and Dennis (and Carol) Sheley of Lincoln; two daughters, Sandy (and Dallas) Millard of Lincoln and Sheryl "Jean" Babbs of Lincoln; five brothers, Wayne Sheley of Lincoln, Homer Sheley of Lincoln, Howard (and Diane) Sheley of Lincoln, Jim (Joannie) Sheley of New Holland and Bob (and Linda) Sheley of Lincoln; three sisters, Virginia Klockenga of Lincoln, Mildred (and Marion) Maaks of Lincoln and Jessie Rankin of New Holland; 13 grandchildren; and 22 great-grandchildren.
He was also preceded in death by one brother, Richard; two sisters, Dorothy Snyder and Betty Downs; and one great-grandson, Lane Babbs.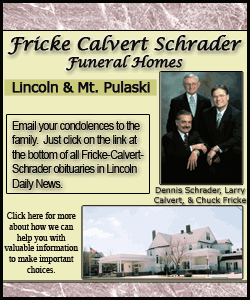 He was a member of Immanuel Lutheran Church and the Independent Order of Odd Fellows.
Memorials may be made to Immanuel Lutheran Church.
Click here to send a note of condolence to the Sheley family.