Delka Sullivan
Send a link to a friend
[December 31, 2008] Delka Iola Dean Sullivan, 86, formerly of Lincoln, went home to be with the Lord on Saturday, Dec. 27, 2008. She died peacefully in her sleep at Heritage Manor Nursing Home in Dwight.
Her funeral will be at 11 a.m. Friday, Jan. 2, at First Baptist Church in Lincoln.
Visitation will be 5-8 p.m. Thursday, Jan. 1, at Holland Barry and Bennett Funeral Home and 10-11 a.m. Friday at the church.

Burial will be in Union Cemetery.

She was a schoolteacher for 30 years, beginning her career in a one-room schoolhouse and teaching in several Illinois communities, including Lake Fork, Chestnut, Beason and ending in Atlanta. She also worked at the Sears store and Frank Foods in Lincoln. She finished her long working career at the Lincoln Developmental Center, where she worked in the clothing, housekeeping and industrial sewing department for 29 years. She retired at the age of 80.

She was born April 1, 1922, at Diller, Neb., to Orville Albert Dean and Eva Lucinda Pitts Dean. She was the loving wife of Charles "Carl" Sullivan. They were united in marriage on Dec. 28, 1963, after a whirlwind courtship of two months and were married for 20 years. He preceded her in death.

She is survived by her only child, a loving daughter, Stacey Marie Sullivan Stefanski, and son-in-law Daniel Stefanski of Dwight; 11 nieces and nephews; and numerous great-nephews and great-nieces.

She was also preceded in death by sisters Florence Shipley, Bernice Dean and Ruby Hurley and a brother, Roy Wayne Dean.

She was very devoted to the Sunday school department of First Baptist Church, was the Sunday school superintendent for many years, taught the Meri-Wed class for over 30 years and served as a junior church leader.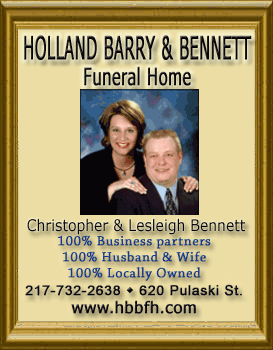 She was a member of Alpha Delta Kappa, a retired teachers' sorority.
She graduated from Lincoln Community High School, Lincoln College and Normal Illinois Teacher University, which is today known as Illinois State University.
She enjoyed making crafts and traveling on adventurous vacations with her daughter. She loved all animals big and small.
Memorials may be made to Sunday school department of First Baptist Church or any chapter of the Humane Society.
Click here to send a note of condolence to the Sullivan family.