Robert Musick

Send a link to a friend
[January 06, 2009] Robert J. Musick, 81, of Lincoln, died Monday, Jan. 5, 2009, at 8:50 p.m. at Memorial Medical Center in Springfield.
His funeral will be at 2 p.m. Thursday at Holy Family Church in Lincoln, with the Rev. Jeffrey Laible officiating.

There is no visitation.

Burial will be in Holy Cross Cemetery.

Arrangements are by Fricke-Calvert-Schrader Funeral Home in Lincoln.

Mr. Musick was an engineer for the state of Illinois. He retired in 1985 after 35 years of employment with the state.

He was a U.S. Navy veteran of World War II.

He was born June 11, 1927, in Lincoln to John Thomas and Helen Mathein Musick. He married Betty Pickett in Lincoln on Oct. 10, 1952. She preceded him in death on Dec. 9, 1989.

He is survived by one son, Robert "Tony" (and Theresa) Musick of Decatur; two daughters, Pam (and Darrell) Turner of Atlanta and Donna (and John) Plummer of Springfield; one sister, Dorothy (and Stan) Paulis of Lincoln; his former wife and friend, Joyce Paige of Lincoln; one stepson, Darrell (and Lorrie) Paige of Lincoln; four grandchildren, Ryan Plummer of Springfield, Tracy Turner of Champaign, and Jake and Jenny Musick, both of Decatur; two stepgrandchildren; a brother-in-law, Wayne Polley of Lincoln; and many nieces and nephews.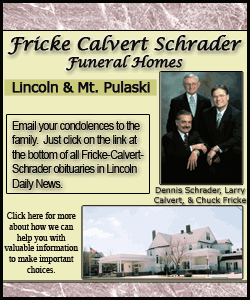 He was also preceded in death by four sisters and one brother.
He was a member of Holy Family Church of Lincoln, where he was an usher for many years. He was also a member of American Legion Post 263.
Memorials may be made to Carroll School.
Click here to send a note of condolence to the Musick family.