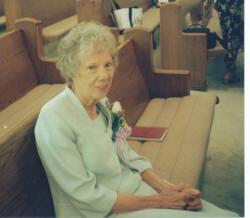 Martha Terrey

Send a link to a friend
[January 06, 2009] Martha Louise Terrey, 87, a Lincoln native, died Saturday, Jan. 3, 2009, at 8:40 a.m. at Carrier Mills Nursing Home. She had lived at Harrisburg in Saline County.
Her funeral will be at 1:30 p.m. Wednesday at Fricke-Calvert-Schrader Funeral Home in Lincoln, with the Rev. Mark Thompson officiating. Visitation will be from noon until the service time at the funeral home.
Burial will be in Union Cemetery.
Mrs. Terrey retired from General Telephone after 30 years with the company. She later worked as a records clerk and operator.
She was born Dec. 29, 1921, in Lincoln to Michael and Amalia Klask Dutz. She married Robert Terrey in Lincoln on Nov. 1, 1947. He preceded her in death on March 23, 2000.
She is survived by one daughter, Leslie (and Bud) Logeman of Harrisburg; two granddaughters, Molly (and Jeremy) Klope of Des Plains and Sarah (and Jay) Herring of Harrisburg; one great-granddaughter, Ainsley Grace Herring of Harrisburg; three sisters, Helen French, Emma Robbins and Betty Eaton, all of Lincoln; and several nieces and nephews.
She was also preceded in death by three brothers, Charles Dutz, Michael Dutz and Lewis Dutz.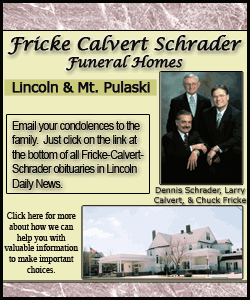 She was a former member of Zion Lutheran Church of Lincoln, and memorials may be made to the church.
Click here to send a note of condolence to the Terrey family.