Lincoln Daily News
welcomes letters of appreciation, information and opinion on matters pertaining to the community.
As a community we need to be able to talk openly about matters that affect the quality of our lives. The most effective and least offensive manner to get your point across is to stick to the issue and refrain from commenting on another person's opinion. Letters that deviate from focusing on the issue may be rejected or edited and marked as such.
.
You may also send your letters by e-mail to ldneditor@lincolndailynews.com
or by U.S. postal mail:
Letters to the Editor
Lincoln Daily News
601 Keokuk St.
Lincoln, IL 62656
Letters must include the writer's name, telephone number, and postal address or e-mail address (we will not publish address or phone number information). Lincoln Daily News reserves the right to edit letters to reduce their size or to correct obvious errors. Lincoln Daily News reserves the right to reject any letter for any reason. Lincoln Daily News will publish as many acceptable letters as space allows.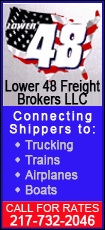 To the editor:

Today (Thursday) was a critical and historic first step toward returning trust, integrity and honor to Illinois. But our work has just begun. We must begin rebuilding today, working together with new leadership to repair the harm that has been done to our state and our citizens.

I was pleased to be in the House chambers this evening and be part of Gov. Quinn's inauguration. I'm certainly hopeful that Gov. Quinn takes the charge to move our state in the right direction.

There are serious issues facing the state of Illinois.

One of the first hopes I have is that he will clearly lay out that he will not raise taxes on Illinois families and businesses. During these difficult economic times, the last thing we can afford in the state of Illinois is, if not the fear of a tax increase, an actual tax increase. Laying this out, I think, will lay the groundwork for rebuilding Illinois' economy and helping create an environment for business to want to make an investment in our state.

I also hope he works to trim state spending. We have had a governor who has balanced the state of Illinois budget with a credit card. We can no longer afford that. We have to shore up the systemic problems of state spending and create an environment that the people of Illinois know they can trust.
___
My remarks on the Senate floor to the impeachment tribunal, Jan. 29:
"Today we have an opportunity to close a sad chapter in the history book of Illinois. Today we cannot help but feel embarrassed. We cannot also help but feel a little sense of pride in this great state, the land which several decades ago brought us a great president, the land which several terms ago brought us another great president, the land which several years ago convicted a former governor, the land which just a week ago inaugurated another president from Illinois, and a land which over the last several hours these past few days will convict and remove a governor from office.
"Cycles are a part of life. Some of them we cannot avoid, others we can. Corruption in this state is a cycle that we must learn to avoid. Testimony we have heard today and over the last several days, whether you be someone who questioned the ethics of this administration, or someone who went along, must indicate to us that things have to change.
"Although we're closing this chapter today, our work is not done. We know from the evidence we heard that corruption still exists in Illinois, and there are people in the state who also need to be removed from their responsibilities. We know we need whistle-blower laws and that we need to increase the standard in this state so that nobody, no legislative body, has to be embarrassed the way we were embarrassed today.
"Illinois is a state of great opportunity, and we have given great things to this country and this world. We need to go back to those reputations. We will, I believe, do the right thing today. But our work is not over. We must work to preserve the integrity of this great state."
___
I have audio and video comments on today's historic impeachment actions posted at my government website, www.senatorbillbrady.com.
Sen. Bill Brady
44th District
[Posted January 30, 2009]
Click here to send a note to the editor about this letter.