Vinander 'Vin' Dawson

Send a link to a friend
[January 29, 2009] Vinander "Vin" Dawson, 46, of Lincoln, went home to the Lord on Sunday, Jan. 25, 2009, from St. John's Hospital in Springfield.
A memorial home-going celebration will be at 11 a.m. Saturday at Second Baptist Church in Lincoln, with the Rev. Glenn Shelton officiating.
Burial will follow in New Union Cemetery.
There will be no visitation time.
Holland Barry and Bennett Funeral Home is handling arrangements.
Mr. Dawson was a chef at Diamonds & Hunan for 13 years.
He was born Nov. 27, 1962, in Chicago, to William and Ramona Primous Dawson.
He is survived by his sons, Paul Hood, Eric Hood and DeAndre Palmore, all of Springfield; three brothers, William (and Mia) Dawson of St. Louis, Mo., Alex Dawson of Lincoln and Mark (and Rhonda) Dawson of Lincoln; two sisters, Renee Dawson of Lincoln and Carlita (and Joe) Edmonson of Lincoln; and a host of grandchildren, nieces, nephews, great-nieces and great-nephews, cousins, and friends.
He was preceded in death by his parents, his grandparents and his wife.
He enjoyed cooking and playing chess.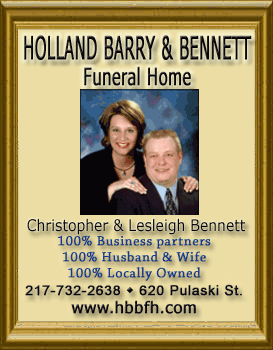 In lieu of flowers, memorial donations may be made to the Dawson family in care of Second Baptist Church.
Click here to send a note of condolence to the Dawson family.