Gerald 'Jerry' Pharis

Send a link to a friend
[January 30, 2009] MOUNT PULASKI -- Gerald "Jerry" Pharis, 69, of Springfield, formerly of Mount Pulaski, died Wednesday, Jan. 28, 2009, at 8:59 p.m. at Memorial Medical Center in Springfield.
Visitation will be 2:30-4:30 p.m. Sunday at Fricke-Calvert-Schrader Funeral Home in Mount Pulaski. His funeral will follow at 4:30 p.m., with the Rev. Walter Carlson officiating.
Interment will be at a later date.
Mr. Pharis was a general contractor for many years before becoming a quality control manager with Illinois Correctional Industries. He retired in 2002

He was born Aug. 20, 1939, at Kenney to Owen and Mae Emrey Pharis. He married Joan Reinders in 1958. He later married Debra Shellhammer Fricke in Las Vegas, Nev., on Dec. 14, 1993.

He is survived by his wife, Debra Fricke-Pharis of Springfield; three daughters, Lynnette Jones (and Mike Maske) of Elkhart, Tracy DeFoor Grundy (and Bernie) of Taylorville and Natalie (and Bill) Gingrey of Mount Zion; one stepson, Nathan (and Heather) Fricke of Mount Pulaski; two grandchildren, Kyle and Christina Gingrey of Mount Zion; two stepgrandchildren, Ben and Jack Fricke of Mount Pulaski; three brothers, Ray (and Pat) Pharis of Refugio, Texas, Junior (and Mamie) Pharis of Mount Pulaski and Kenneth (and Mary) Pharis of Rienzi, Miss.; three sisters, Helen Frank of Refugio, Texas, Dorothy (and Vernell) Bahn of Mount Pulaski and Mary Louise (and Gene) Mattingly of Atlanta; and several nieces and nephews.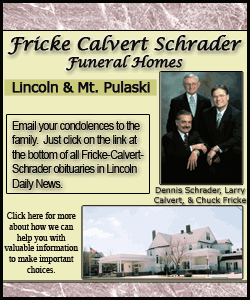 He was preceded in death by his parents; one sister, Lillian Rentmeister; and a granddaughter, Megan DeFoor.
He was of the Methodist faith.
Memorials may be made to the American Cancer Society or Mount Pulaski First United Methodist Church.
Click here to send a note of condolence to the Pharis family.