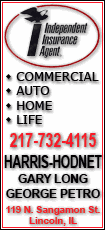 St. Louis Cardinals staying in the race
I have to admit that not many people are as surprised as I am that the Cards are hanging tough in the NL Central playoff picture. I really thought the Cubs would have it well in hand by now, and they still might somewhere down the road. I didn't expect the Brewers to be at the top of the heap, because I felt going in that they had way too many question marks in the pitching department. As for the Cubs, I didn't see them having the injury problems that have plagued them thus far.
So, the Cards have benefited from a weak division, but I'll take that any day. We're also still looking for All-Star Game tickets, so call or e-mail us with what you have to offer!
Redbirds sing a sweet deal with Cleveland
In a move that was not very secretive, the Cards dealt young power pitcher Chris Perez and a player to be named later to the Indians for Mark Derosa. He can play a plethora of positions and comes into this thing with 13 home runs and 50 RBIs. That should help protect Pujols in the middle of the lineup at least a little bit. Derosa is also a hard worker and is said to be great in the clubhouse, which could bode well for the Birds in the days ahead.
Un-sweet karma?
Karma has not dealt a lot of good things to the Redbirds this season. Untimely injuries, guys taking longer to heal and bad timing have hit the Cards right upside the head many times already. If that wasn't enough, they seem to be catching teams when they are at their hottest ... like the Twins (can we ever beat those clowns?). Then I saw where they lost to the Royals the other night ... I just don't get it!
Tiger not swinging a sweet stick
I told anyone who would listen that Tiger was not all the way back from his knee surgery just yet and that I didn't think he would win the U.S. Open. When he gave a couple of shots to the field in his first two rounds, I thought he was completely out of it. But, only his greatness allowed him to fight back into the picture.
As Lincoln's own Brad Neal stated, "Phil had lots of chances too, but couldn't close the deal."
I couldn't agree more. However, props to Lucas Glover, 2009 U.S. Open champion!
My only real complaint with golf anymore is this: Do you have to be able to shoot the ball out of a cannon off the tee? What happened to target golf? What happened to being a trouble shooter? What happened to having to have some touch around the greens?
I know there's better equipment and better golf balls, etc. But, I'm not so sure that it's a better game!
Fantasy baseball commercial on Sports Center
Sweet!
U.S. men's soccer team
Great job in making it to the finals versus Brazil, and too bad they couldn't hang on for an improbable win. Maybe the best I've seen a U.S. men's team perform that I can remember. Will this vault them into a good World Cup performance? Or, will the devastation of defeat send them the other way?
Other stuff
Saw where the Lincoln Railers baseball team finished the season on a very high note after being a little up and down this season. That's always good to see. Lincoln kids always play hard, are tough-minded and usually give good effort. I know a lot of towns and schools would love to have our players. I know up here they have trouble even getting kids out for sports. On top of that they have to deal with lots of, shall we say, off-the- court, off-the-field incidents. I give props to teachers, coaches and administrators who do a great job of encouraging kids and helping them stay involved. In this crazy world with lots of temptations, and now having to deal with parents much more and club and AAU teams, etc., it's amazing that kids do as well as they do.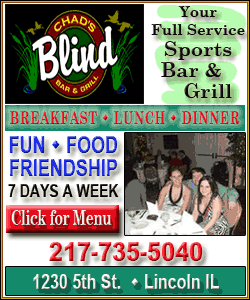 Illini
I know I'm gonna be way too optimistic this year for both Illinois Fighting Illini football AND basketball, but I just can't wait for the action to start. The gridders have a brutal schedule, but maybe the talent upgrade will surprise us and rise up and steal some games that we just haven't been able to pull out in the past. And if you've never attended the Braggin' Rights game in St. Louis, this may be the year to do so. It has a bowl game atmosphere and is just a lot of fun. It will also soon be discontinued, so you might want to catch one before they are no more.
And as for the hoopsters ... you can say so long to Mr. Jordan. That's right. IF you haven't heard, Jeff Jordan has quit the team to concentrate solely on academics and will not return to the 2009-10 squad. He was always very polite to the LDN crew and we simply salute him and offer him God's best for his future. Selfishly, I would've liked to see him stay. I thought he was a defensive stopper and for my money he could have shot more often. On the other hand ... we're gonna have a hard time finding playing time for everybody next season anyway ... IF everyone stays healthy. I am just so eager to see our ballclub that I can barely contain myself. I hope they can either duplicate or surpass last year's successful run!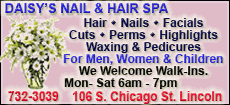 Pens capture the elusive cup
We watched the Pittsburgh Penguins on TV win an emotional game seven at Detroit (last year's Stanley Cup champions) in a gritty, hard-hitting contest. We should also be credited with an assist. Craig and I visited Joe Louis Arena earlier this season, where we cheered the Blue Note to an amazing 5-4 victory over the Red Wings in a game that helped launch the Blues back to the playoffs after a four- or five-year absence. While there, we helped spread some bad vibes, and maybe if the folks in Pittsburgh see this, they'll let us host the cup for a day. Wouldn't that be fun? I'm not holding my breath, but it would be fun to float with it down the Rock River!
Congrats to Payne
For my shameless plug of the month, I must congratulate former Lincoln resident Payne Mayfield (now 8 years old -- or I should say 8 1/2). He was voted MVP of his in-house league team, the Sharks (don't have the stats in front of me, but he scored maybe 15 goals and had even more assists). Then he played well as a defenseman for the traveling squad known as the Beloit Blades. He scored one of the prettiest goals of the year in a game at Monroe, Wis. Now they're representing their league by rollerblading in area parades ... It's quite a sight to behold. On top of that he's playing a solid first base for his baseball Yellowjackets so far this summer.
OK, that's as sweet and syrupy as I can get for now. I'll see if I can get Greg over to an Illini or Bears practice for our next feature. Oh, and if anyone is planning a trip to Gettysburg or the Hershey-Lancaster, Pa., area and would like the lowdown -- I'll be glad to share what little bit we experienced. It is a really "sweet" place! Until then, have a great month, everybody!
[By JEFF MAYFIELD]
Respond to the writer at jeffmayfield@centralwired.com.