Elkhart Christian Church to hold Fundraiser

Send a link to a friend
[June 09, 2009] -- Elkhart Christian Church will be hosting a fundraiser during the Route 66 Garage Sale event this Saturday, June 13th. Members of the church have committed to holding a Vacation Bible School for a new church in Laramie, Wyoming and are raising funds to purchase supplies and pay for travel costs. "We'll be doing other projects, too," says Bob Twist, minister at Elkhart. "I told them we weren't coming out to just sit around, we want to work." So in addition to putting on a VBS program, they will be doing other service projects in their off hours. One day, they will survey the town to help the church leaders know the needs of the people better. Another day might see them working in a soup kitchen.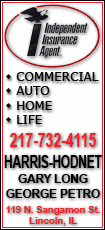 The connection with Laramie came about when a member of the church, Chad Halbach, and his family were called by a church planting organization. While the church has worked hard to develop roots and a core of spiritual leaders, they have also maintained a steady body of regular attenders. "I want more," Halbach recently said. "I want more people to know what Jesus can do for them. I want the church to make more of a difference in the community. I always want more." And their effort to achieve more works hand in hand with Elkhart's mission trip, scheduled from July 31st through August 9th.

If you would like to make a donation, either money or items for the sale, contact Bob Twist at 947-2726. They are accepting anything for the sale except clothes. And if you are out shopping on Saturday, don't forget to stop by the Elkhart Christian Church and fill your car!
[Jo Hilliard, LDN Spiritual Life Editor]