Elkhart Grain
A request for the enterprise zone to be extended to Elkhart Grain received tentative approval by a vocal straw vote. There were many "ayes." No "nays" were discernable.
Insurance
The board spent considerable time discussing two workers' comp and property liability insurance proposals. One proposal was through the current agent, Larry Bielema, who is with Callender and Co., Peoria, and would continue with the present carriers.
The other proposal has the support of the Illinois Association of County Board Members and Commissioners. Kelly Murray, executive director for that association, explained how the Counties of Illinois Risk Management Agency insurance program got its start and how it puts more control of the insurance matters in the hands of the county board members. The reason this was set up was "to give counties more purchasing power," she said.
This newer program, known as CIRMA, is comparable to the insurance program that most townships now use, called TORMA, Murray said.
Rich Stokluska of Arthur J. Gallagher Risk Management Services, Itasca, explained how the company contracts with major insurance companies with ratings A+ 15 to A 11 for the CIRMA program
Some board members were concerned about the newness of the program. It called for a three-year contract with renewal rates that could be changed beginning at 16 months.
Another discomfort to some board members was that the company just now is in the process of filing its first-year's financials with the Illinois Department of Financial and Professional Regulation. The figures would not available before the board needs to make their decision.
While the matter was being discussed in committee, department heads and county-affiliated agency managers were contacted and asked to check with their constituents in other counties that have the program now to ask how it is working for them.
Favorable comments were returned, including reports that claims were handled with ease and swiftly and that rates had remained flat.
Rick Aylesworth, former insurance committee chairman, was asked how the insurance was decided in the past. He explained that they had looked into getting bids, but the cost of getting a bid spec was prohibitive. A spec would not allow enough variability for most benefit to the county either. In addition, costs continued to decline, he said. The figure went from $291,000, to $272,000 and now $270,000.
There is a $58,000 difference between the two proposals being reviewed now, with CIRMA the lesser.
A motion of approval was made for each company and a straw vote taken. The vote by voice was too ambiguous to discern. When a show of hands was taken, only seven of 11 members voted. Other board members said in advance that they felt they needed more time to review the proposals. The vote swung on each motion, 3-4 and 4-3, with the later indicating that on Tuesday the board would choose to stay with Callender and Co.
During public comments, Vic Martinek, a citizen, asked, "With the three-year contract, is there a termination clause?" He also questioned, "Could we limit the exposure to increased costs by setting a cap?"
Economic development
Joel Smiley, executive director of the Lincoln & Logan County Development Partnership, reported that progress continues on the Logan County Comprehensive Economic Development Strategy. Community meetings that gathered projects to list in the CEDS were completed. Three of the smaller communities did not have representatives at these meetings. He said it is important that all of Logan County's communities be represented in the document. So, he and Bill Martin will schedule additional meetings to go and meet with them in their communities.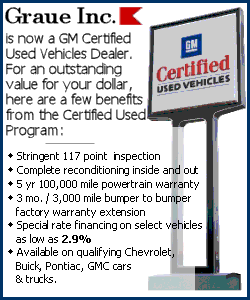 Smiley then gave a quick rundown on many of the current activities the partnership is involved in.
Helitech, a company that specializes in structural foundation repair, has been looking to build and considered Lincoln. This remains a possibility.

A few things have changed since Helitech made their first approach. One factor that affected the negotiations was a shift in the company's work force size. They would not have as many jobs to offer as initially planned.

The partnership has been working with them in finding land and incentives that would help bring them here. They are considering acreage next to Wal-Mart, as well as looking around Bloomington.

RP Lumber has reached an agreement with CVS, and a formal announcement is expected soon.

Peebles has signed an agreement with the property owner of Goody's. A public announcement is expected on June 20, with a late August opening planned.

Builder, a company looking to build a 50-unit retired living complex, visited Lincoln. This is a company has built other complexes around the Chicago area and out of state as well.

Wind developers: A major wind developer will be making a site visit in a week or two. Through the Windpower 2009 conference in Chicago, Smiley made 19 contacts with industry developers from manufacturing, warehousing and distribution of parts to wind to electrical production. Four or five of those are actively setting up for site visits here.

Business incubator: It has been found that the program cannot offer tax breaks to property owners. However, the project remains highly beneficial to local businesses, as vacant stores would be filled. One of the possibilities for this program could be a company that manufactures wind turbine components. A company that is looking for a site has plans to stop by Lincoln. The business would have as many as 50 employees.

Smiley recently spoke with student entrepreneurs at the University of Illinois. They have an Entrepreneur Club. He has been asked to speak at one of their lunches and has been invited back for a panel series this fall. The hope is to direct business startups to Lincoln, particularly with the incubator program in place.

Business retention project: site visits to top 25-30 in Lincoln and Logan County. A business retention program is expected to launch in late July.

The partnership is making two changes to its Web site. There is now an online survey for developers to use. And, a monthly newsletter will be posted that includes projects in process.
[By JAN YOUNGQUIST]
Previous related articles
City briefs
Grain elevator requests enterprise zone; street overlay projects; new fire station possibilities; should city seek grant that would bring new firemen; bicycle safety day scheduled; 1859 records found in the attic

Elkhart grain elevator requests enterprise zone
More wind turbines on the Logan County horizon