George McGee

Send a link to a friend
[March 02, 2009] MOUNT PULASKI -- George William McGee, 87, of Mount Pulaski, died Saturday, Feb. 28, 2009, at 4:25 a.m. at Vonderlieth Living Center.
His graveside service will be at 10:30 a.m. Wednesday at Steenbergen Cemetery, with Jeremy Thomason officiating.
There will be no visitation.
Fricke-Calvert-Schrader Funeral Home in Mount Pulaski is handling arrangements.
Mr. McGee was a retired farmer.
He was born April 12, 1921, in Mount Pulaski to William Roy and Maurine Lucas McGee. He married Gloria Faye Lewis in West Frankfort on Sept. 7, 1947, and she preceded him in death on May 24, 1982. He later married Charlotte Edwards Johnson in Clinton on Nov. 16, 1984.
He is survived by his wife, of Clinton; one son, Mark (and Mary) McGee of Mount Pulaski; one daughter, Sara (and Dean) Fox of Winchester, Va.; two stepdaughters, Tina (and Ben) Donath of Storm Lake, Iowa, and Beth Glenn of Clinton; two sisters, Kay Roman of Peoria and Rita McGee of Black Earth, Wis.; three grandchildren and two stepgrandchildren; and three great-grandchildren and three step-great-grandchildren.
He was also preceded in death by one brother, Wallace.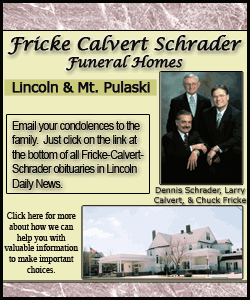 He was a member of Mount Pulaski Christian Church.
He had been a member of the Mount Pulaski Grade School board, Farm Bureau board, Extension council, First National Bank of Mount Pulaski board of directors, Ansar Shrine, Masonic Temple and Scottish Rite.
Memorials may be made to Shriners Hospitals for Children.
Click here to send a note of condolence to the McGee family.