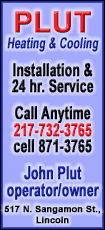 Well, with defense leading the way, this is exactly the kind of bounce the Railers need if they plan a long stay in this year's tournament. The top-seeded Lincoln squad pitched their first shutout quarter of the season in route to a 49-28 decision over Normal U-High at the Robert Frank Sports Complex at Bloomington High School.
The victory advances the Railers to Friday night's regional title game, where they will square off against either Mahomet-Seymour or Bloomington.
Coach Neil Alexander is always talking about that "perfect 32 minutes" of basketball. The first eight on Tuesday night, especially on the defensive end, may have been as perfect as possible. Besting their previous low quarter (2 on three occasions), Lincoln (27-4) held the Pioneers to only three shots, with two coming on the same possession. While holding U-High scoreless, the offense was sufficient.
After a steal and pass to Alex Anderson resulted in the first Railer points, Kyle Young added a layup and Louie Schonauer hit his only 3 of the night for the seven for the Railers. However, the story was the defense.
It seemed as though Lincoln had six or seven players on defense, as each Pioneer pass seemed to reach its intended target after the nearest Railer defender was already in position. Traps were tight, hands were active, focus was intense, and from our view in the balcony, it was pure joy to watch this defense completely handcuff its opponent.
Things evened up a little bit in the second quarter. After a layup from Nathaniel Smith, which looked strangely familiar to the thought-to-be game winner from Friday night, Normal U-High finally gave their fans cause to cheer at the 6:32 mark with their first basket, making the score 9-2. Lincoln then scored the next 10 to stretch their run to open the game to 19-2. A layup from Kyle Frick was followed by a steal and layup from Jordan Nelson. The sophomore was fouled on the shot but missed his free throw. Alex Anderson hit a 3 during the run as well.
The majority of U-High's scoring came from Connor Brown. Brown, the leading scorer in their Monday victory over Rantoul, hit two from long range for six of their 10 first-half points. At the time, the Railers' biggest lead of 17 had been cut to 11 at 21-10.
To begin the third quarter, a quick score from the Railers on the "errant oop" from Louie Schonauer to Kyle Young was followed up by the first of three 3s from Connor Brown, cutting the lead to 10. It marked the closest U-High (10-18) would get for the rest of the game. Brown's points did come in threes. Along with his nine points on 3-pointers, he also converted three free throws after being fouled behind the arc.
Lincoln used precision interior passing to find open shots to slowly extend their lead. The key offensive play for Lincoln in the quarter was to get it to Ben Brackney. The junior hit four 3s to score 12 of the 20 Railer points in the period. Brackney hit from out high as well as the corner. By the end of the quarter, the contest was really no longer in doubt as Lincoln led 41-24.
The fourth quarter was not as much as an offensive struggle for U-High as the first, but it wasn't pretty. Lincoln's defense again held the Pioneers to no field goals and only four free throws. Lincoln scored only eight, but again the game was pretty much decided by this time.

It was not a perfect game but a good start to the tournament run. Things will be tougher on Friday against either Mahomet-Seymour or, possibly, the host team, Bloomington.
The Railers were led by Ben Brackney and Kyle Young, both with 13. Alex Anderson added eight while Jordan Nelson had seven. Louie Schonauer and Kyle Frick each had three, while Nathaniel Smith added two on a layup.

[to top of second column]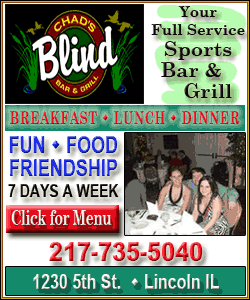 Coach Alexander was pleased with the win as the Railers went away from some of their normal offensive sets. "We only ran one set tonight. We didn't want to give away too much as Mahomet and Bloomington were here scouting," Alexander said. "I thought our kids did a nice job running the continuity and getting good looks and getting to the basket."
An area that, as Alexander stated, "was discussed in the locker room" is the recent struggles from the free-throw line for Lincoln. On the night, the Railers were only 3-of-9 and, over the last two games, are shooting just 45 percent (9-of-20) from the line.
In a 21-point game, it may be easy to gloss over. However, rest assured the coaching staff knows it and realizes the team could be one bad free-throw night from watching their season come to a sudden stop. If the Railers have a lead late in a game, it's hard to imagine opponents feeling confident in fouling Lincoln and sending them to the line. However, their current difficulties make that a viable option.
Lincoln will be in action on Friday night in the regional final at Bloomington High School. Their opponent will be either Mahomet-Seymour or Bloomington. Those two will play Wednesday night. The contest is scheduled to tip at 7:30 p.m. and, as always, you can catch the game on WLCN-FM 96.3 and here at lincolndailynews.com.
___

LINCOLN (49) -- Brackney 4 1-2 13, Young 6 1-2 13, Anderson 3 0-0 8, Nelson 3 0-1 7, Schonauer 1 0-0 3, Frick 1 1-4 3, Smith 1 0-0 2, Neece 0 0-0 0, Turner 0 0-0 0, Coyne 0 0-0 0. Team 19 3-9 49.
3-Point FG: Team 8 (Brackney 4, Anderson 2, Nelson, Schonauer).
Normal U-High (28) -- Brown 18, Harbers 5, Robb 2, English 2, Styczynski 1.
End of first quarter -- LCHS 7, Normal U-High 0
Halftime -- LCHS 21, Normal U-High 10
End of third quarter -- LCHS 41, Normal U-High 24
Other notes:
Three Railers advanced to the next round of the 3-point showdown: Nathaniel Smith, Brant Coyne and Cameron Turner. The trio will shoot before Friday night's contest for a chance to move on to the next round.
[Special report by JEFF BENJAMIN]