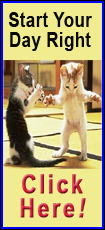 Wade scored 35 points and tied his career high with 16 assists, Michael Beasley and Daequan Cook combined to score 55 points off Miami's bench, and the Heat spoiled Shaq's return with a 135-129 win over the Phoenix Suns.
Beasley scored 28 points -- the most by a Heat player besides Wade this season -- and nine rebounds. Cook added 27 points and Miami led for all but a portion of the opening minutes on the way to the second-highest point total in franchise history.
O'Neal finished with 22 points and eight rebounds before fouling out with 1:08 left. Steve Nash led Phoenix with 29 points and 10 assists, and Jason Richardson added 22 points for the Suns.
The night started with Shaq and the star he dubbed Flash hugging. By the end, things seemed downright testy.
O'Neal fouled Wade with 1:21 left, then stood over him Muhammad Ali-style until Udonis Haslem nudged him O'Neal out of the way to help up Miami's best player. Wade made both free throws for a 127-119 lead, and cries of "M-V-P" drowned out a profane anti-Shaq chant from some in the crowd.
And on the next Miami possession, it was over for The Big Fella. Wade drove on him again to draw Shaq's sixth foul, and all O'Neal could do was meander slowly to the bench.
Until last week, only one Heat player had ever managed 30 points and 15 assists in a game. Wade has now done it twice in his last five outings, and seemed to play with a purpose in this one.
O'Neal was traded in February 2008, when the Heat were on their way to being the worst team in the NBA. Publicly, there never was much of a squabble. But Wade seemed to infer this game would have additional meaning.
"My grandma always said, you forgive, but you don't forget," Wade said beforehand. "I live by those words. I forgive a lot of guys. I'm that kind of person. But I don't forget what he said, either."
It was O'Neal's first time in Miami as an opponent since Feb. 10, 2004. O'Neal was introduced last of the Suns, giving him the opportunity to receive an ovation. Most fans obliged, with the overwhelming majority cheering, although there were a few scattered whistles.
"Everything is done out of respect, whether it's a cheer or a boo," O'Neal said before the game.
O'Neal then went to midcourt to shake hands with Heat owner Micky Arison and his family, then over to the Miami bench for embraces with Heat coach Erik Spoelstra, assistant coach Bob McAdoo and others. Finally, he and Wade shared a hug just before tip-off.