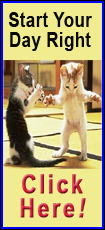 The 35-year-old infielder could finalize a deal within a few days, a person familiar with the negotiations said Tuesday, speaking on condition of because the contract was not yet final.
Oakland, a late player in the free-agent market, also is close to finalizing a $4 million, one-year contract with Orlando Cabrera, who would displace former AL Rookie of the Year Bobby Crosby as the team's starting shortstop.
The A's made no public comment on the ongoing negotiations. Both deals could be finalized later this week.
Garciaparra was limited to 55 games for the Los Angeles Dodgers last season because of injuries. He hit .264 with eight homers and 28 RBIs, but strongly considered retirement in the offseason for the chance to spend more time with his wife, Mia Hamm, and their young daughters.
A six-time All-Star, Garciaparra spent a majority of his three years with the Dodgers at first base, and also played shortstop and third base.
Garciaparra started his career with the Boston Red Sox, hitting 30 or more home runs twice and driving in 100 or more runs four times in nine seasons. He was the AL Rookie of the Year in 1997 and was second in the AL MVP voting in 1998.
He's played in the NL since the Chicago Cubs acquired him from Boston in July 2004. Garciaparra would become Oakland's third-oldest player behind Russ Springer (40) and Jason Giambi (37).