Bernard 'Barney' Hildebrandt

Send a link to a friend
[March 09, 2009] Bernard W. "Barney" Hildebrandt, 79, of Lincoln, died Sunday, March 8, 2009, at Maple Ridge Care Centre in Lincoln with his family by his side.
His funeral will be at 10:30 a.m. Thursday at the First United Methodist Church in Lincoln, with the Rev. Jame Haas officiating. Visitation will be 4-7 p.m. Wednesday at Holland Barry and Bennett Funeral Home in Lincoln and 9:30-10:30 a.m. Thursday at the church.

Burial will be in Hartsburg Union Cemetery, Hartsburg.

Mr. Hildebrandt worked for Caterpillar for 25 years. He was a truck driver for Allsopp, Bowen Transfer and Garland Gehrke before owning and operating his own trucking company. He most recently drove a school bus for Chester-East Lincoln, West Lincoln-Broadwell and Lincoln Community High School. He had worked for Heineken Brothers during high school and shortly after.

He was born Sept. 25, 1929, in Emden to Barney Hildebrandt and Christina Mammen-Hildebrandt. He married Mary Rankin on Aug. 7, 1949, in Middletown.

Surviving are his wife, of Lincoln; one daughter, Deborah Skelton of Lincoln; two sons, Wayne Hildebrandt (and Rhonda Rawlins) of Lincoln and Barney "Butch" (and wife "Bert") Hildebrandt of Springfield; three granddaughters, Sarah Puls of New Holland, Elizabeth Skelton of Lincoln and Adrienne Hildebrandt of Lincoln; two grandsons, Matthew Comstock of Lincoln and Christian Skelton of Lincoln; three great-grandsons, Nathan and Jason Puls of New Holland and Ryan Comstock of Lincoln; special little twin girls, Addison and Avery Rawlins of Lincoln; one niece, Pamela Hildebrandt-Robbins; and one nephew, Paul Hildebrandt-Meyers.

One brother, Eldon, preceded him in death.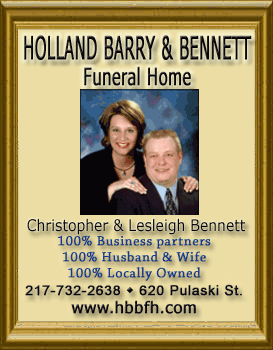 He was a member of the First United Methodist Church in Lincoln, the local Caterpillar union, Midwest Truckers Association, the LinPro square dance club and The Oasis senior center. He was an honorary member of the Lincoln FFA and was a volunteer bus driver for St. Jude's.
Memorial donations may be made to the elevator fund at the First United Methodist Church or to the Lincoln-Logan County Food Pantry and will be accepted at the funeral home.
Click here to send a note of condolence to the Hildebrandt family.