After tying his career high with 20 against Decatur Eisenhower earlier this year at Collinsville, the 6-5 junior set his career best with 22 points to lead the Railers to a 69-42 win over Decatur MacArthur. The win puts the Railers into a sectional final showdown with Champaign Centennial on Friday night at Decatur Eisenhower High School. Brackney is averaging over 15.5 in tournament play so far and has come alive just when the Railers needed him.

Coming into the contest, the Railers seemed to be the favorite and did not disappoint as Lincoln jumped out to an early 5-0 lead on shots from Ben Brackney.
After a basket from MacArthur's Monte Wilson, Lincoln followed up with 3s from Brackney and Louie Schonauer to push the lead to 11-2. Alex Anderson's only 3 of the night followed another Generals basket, giving the Railers an early double-digit lead. However, Lincoln, according to coach Neil Alexander, "lost focus -- something this team can be good at from time to time," and that allowed MacArthur to get back into the contest, scoring the final seven of the quarter to cut the Lincoln lead at the end of one to 14-11.
Lincoln certainly helped MacArthur back in with bad passes, unwise decisions and a nice Kyle Young screen that unfortunately was on Ben Brackney, causing another turnover.

Monte Wilson, who scored a game-high 25, hit a 3 to open the quarter and tie the game at 14. Once again, as in their last game against Bloomington, sophomore Nathaniel Smith came in off the bench to provide a needed spark.
Smith, who already enjoyed success on the Eisenhower floor by hitting 11-of-15 shots in the 3-point contest to advance, scored the next two Lincoln baskets, one on an offensive rebound and putback and the other on a driving layup out of Lincoln's spread offense. The last of the two Smith baskets put Lincoln up 18-16, and the Railers never relinquished the lead from there.

The scoring push then moved from sophomore to sophomore as Jordan Nelson joined in. Nelson hit two 3s and scored eight of Lincoln's 10 points to put the lead back in double digits at 28-18. After a 3 from Bryce Taylor, Louie Schonauer closed out the half in style by draining a fadeaway 3 from the top of the key, and Lincoln enjoyed a 31-21 lead at the half.
Other than the four-minute hiccup at the end of the first quarter, Lincoln continued to play some of its best, and smartest, basketball of the season. By the way, no points from Kyle Young and still up by 10.

Lincoln (29-4) put the game out of reach in the third quarter by outscoring MacArthur 18-6. Kyle Young scored his only four points of the game in the quarter, while Jordan Nelson added seven more to his total, four on layups through a wide-open lane as MacArthur seemed to lose interest in playing defense even before the second half started. It was very noticeable, as the Generals (17-11) came out from intermission, that any spark they may have had did not make it out with them for the final 16 minutes.

The fourth quarter was more Lincoln defense and precision on running the offense. Ben Brackney added nine in the quarter, while Jordan Nelson chipped in six. After not going to the line in the first half, the Railers helped everyone forget their recent struggles by hitting 17-of-18 from the free-throw line. Over the last two games, Lincoln has gone 34-of-39. It is something we hope continues Friday and beyond.

This was the first time all season that two Railers have eclipsed 20 points, as Ben Brackney led the way with 22, while Jordan Nelson added 21. Louie Schonauer was in double figures as well with 10. Nathaniel Smith scored six points, with Kyle Young adding four, Alex Anderson three, Kyle Frick had two, and Cameron Turner added a free throw.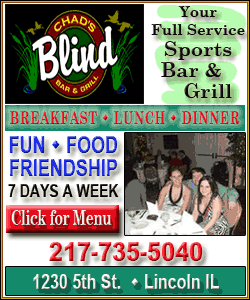 Let's not forget about the crowd. It was another unbelievable turnout by the Railer Nation, and one can only imagine what it will like on Friday night with a chance to go to the supersectional on the line.

As for the matchup with Centennial, Alexander said, "Well, we've had a goal of getting to next week and to keep playing, and now we have our chance to do that. It should be a great game."

Lincoln will be in action on Friday night in the sectional final at Decatur Eisenhower High School. Their opponent will be the No. 1 team in Class 3A, Champaign Centennial. The contest is scheduled to tip at 7:30 p.m. and, as always, you can catch the game on WLCN-FM 96.3 and here at lincolndailynews.com.
___

LINCOLN (69) -- Brackney 7 5-5 22, Nelson 6 7-7 21, Schonauer 4 0-0 10, Smith 2 2-2 6, Young 1 2-2 4, Anderson 1 0-0 3, Frick 1 0-0 2, Turner 0 1-2 1, Neece 0 0-0 0, Coyne 0 0-0 0 Team 22 17-18 69.
3-point FG: Team 8 (Brackney 3, Schonauer 2, Nelson 2, Anderson).

Decatur MacArthur (42) -- Wilson 25, Softley 6, Taylor 5, Boatman 4, Anderson 2.

End of first quarter -- LCHS 14, Decatur MacArthur 11
Halftime -- LCHS 31, Decatur MacArthur 21
End of third quarter -- LCHS 49, Decatur MacArthur 27
Other notes:
As mentioned earlier, Nathaniel Smith hit 11 shots in the 3-point shooting contest to advance to the next round on Friday night.

As I've said from the beginning of the season, there is just something that seems fitting, that during the year we celebrate the 200th birthday of Abraham Lincoln, the school from the city named after him and christened by him with the juice of a watermelon, should represent the state as champions of basketball. All that being said, there are still games to be won and it starts on Friday. I suppose it would not be out of sorts to say that if Lincoln wants to celebrate on the basketball court during Abe's birthday bicentennial, on Friday night the Railers will have to get "by-Centennial."
[Special report by JEFF BENJAMIN]