I was wrong about the Big Ten tournament ... dead wrong. I thought it would be a colossal waste of time. I guess I have always been a "purist" when it comes to valuing the sport. I guess I have never been a "what have you done for me lately" kind of guy. I cherish loyalty. I like a body of work over the long haul. Heck, I don't even like other teams being shipped to other regions as the No. 1 seeds, even if it's ILLINOIS! I want to see the best teams in the West represent the West ... and so on.
I know that places me smack-dab in the middle of the minority, but I don't care! I've been there before and I'll be there again. It just doesn't make sense to me. You want to reward a team that got hot for a week or two, that may have struggled through two or three stretches earlier in the year? You want to give an NCAA invitation to a team that maybe lucked their way through a two- to four-day weekend? I don't think so ... not if I'm on the selection committee. And, that is one of the problems. While it may be true that I don't personally know any of the members, I can promise you that I could do as good a job selecting the 64-65 teams that they come up with. That's another story for another day.
You knew in your heart of hearts that the Big Ten would eventually have a postseason tournament. There is way too much money on the table not to have one. There's just something about it that doesn't seem right to me. It reminds me of my days as an enthusiastic NHL hockey fan. When I was younger, teams would battle all year to secure a playoff spot, only eliminating a few teams for the postseason in the process. That's what these conference tournaments do, in my mind. Look at today's and tomorrow's TV schedule for some of these league's semis and finals, and look who's playing, and you'll see what I mean.
But like I said earlier, I was wrong. This tournament may do more good than bad. It may even do way more positive things than I, a lifelong basketball fan, could've ever envisioned. For one, it gives bubble teams a chance to "enhance their resumes," as the big boys on TV will tell you. It gives a team that may have been decimated by injuries during the season one last chance to right their season. It also fills in the last week to minimize the amount of off days until the "Big Dance" really starts. On top of all that, the TV exposure the league gets is great for recruiting and market positioning.
But that's just the half of it. One thing I love about sports is the crowds. I love to watch people, as it is very entertaining to me. Sometimes I am more enthralled with them than I am with the game. Sitting on press row the last couple of days, I watched as several moms and dads brought their kids to the rails to take pictures of their favorite stars. The joy and excitement on those kids' faces reminded me of when my dad would take us kids to games. Going to the game, any game, filled up my senses. Outside of exercising my faith and spending time with my wife and son, nothing else even comes close to that experience. This event allows some families to experience that feeling and more in many ways.
However, these leagues could still do a lot more. How about coming up with a way to get those empty seats filled? There isn't a YMCA or Boys & Girls Club near these arenas that wouldn't be thrilled to distribute a few hundred or thousand tickets? And with the price being so high, how many of these schools' regular college student fans are deprived of a chance to see their heroes because it is financially unfeasible? Why not section off some of those empty seats between the competing schools at a fraction of the cost for our student-students?
I know that the changes I'm suggesting will probably never come about, because there is much more concern about the TV deals and the revenue that these tourneys produce. But hey, I was wrong before; maybe I'm wrong about all this too.
What Weber said
I spoke to Illini coach Bruce Weber after the game and asked him about our newfound "running" game. He said he's been wanting to run more all year, but that our guys have had trouble pulling it off. He mentioned that the Illini have been running drills in practice where they put 15 seconds on the clock and try to score quickly. He wants to put the opponents on their heels and try to score some easier points to take some pressure off the half-court offense. He mentioned that he had set a goal of 24 wins for this team around Christmastime, and here we are. I don't think many media members or fans had that prediction for this year's squad.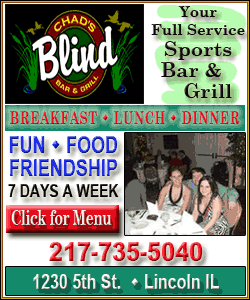 What the players said

I spoke to Trent Meacham in the locker room after the game, and he was very pleased with the overall effort. He said he made a concerted effort to push the ball and to try to penetrate when he could. He said he feels so confident in Mike Davis and Mike Tisdale to pick and pop ... and that they will find him on the relocation if they don't have a good look at the hoop.

He was also happy that his girlfriend was in Indy, able to see the game, and assured me that she is a better player than he is!

Calvin Brock told us that he was just happy to contribute and loved playing defense on Manny Harris. Harris was a first-team all-Big Ten selection, and Brock held him to only nine points.

Demitri McCamey shared with us that he was keeping a close watch not only on our scouting reports, but also on IHSA action. While we were with him he was waiting for updated phone calls and texts.

Mike Tisdale was not able to answer our questions because he was too busy eating a box of pizza. We decided not to bother him and just let him eat!

A champion person

In seeing Chester Frazier, you would've never known that he had a hand injury and that he would be unable to play. You also did not see a hint of sadness, moping or a long face on the kid. He was smiling, laughing and coaching his teammates along the way. Chester Frazier is a champion person! He may not have gotten the Big Ten Defensive Player of the Year trophy that he deserved, but his legacy at Illinois will be long remembered! Don't be surprised if he plays next week as the Illini journey to the Sweet 16.

Lunch with Jerry Hester

We had a great time eating one of our meals with former Illini great Jerry Hester ... now one of the Illini radio voices. He told us some great stories about his own recruitment ... that he was recruited by Illinois, Wisconsin and DePaul ... and even a few others. We will try to do a full story on that in the future. He and Stephen Bardo have just been great to the LDN.

ON to the semis

Well, now it's on to the semifinals against Purdue. I think it will be one of our toughest games of the season. But never count our guys out... So many times they have found a way this season, and perhaps more histrionics are in store!

Selection Sunday

Who knows where the selection gurus will send us? Greg and I will try to check in with you loyal LDN readers at that point and try to sort some of it out. Whatever happens from here on in is just frosting on the cake, in this writer's opinion!

Have a great one, everybody!
[By JEFF MAYFIELD]
Respond to the writer at jeffmayfield@centralwired.com.