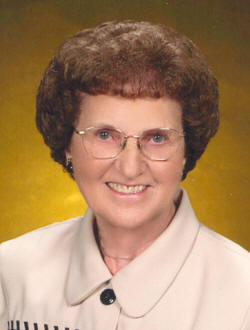 Eileen Riggs

Send a link to a friend

[March 16, 2009] Eileen C. Riggs, 83, of Lincoln, died Sunday, March 15, 2009, at 6:30 p.m. at St. Clara's Manor.

Visitation will be 4-7 p.m. Wednesday at Fricke-Calvert-Schrader Funeral Home in Lincoln.

Her funeral will be at 10 a.m. Thursday at Zion Lutheran Church in Lincoln, with the Rev. Mark Thompson officiating.

Burial will be in New Union Cemetery.
Mrs. Riggs was a homemaker. She had also worked in the office at Deaconess Hospital and at S.S. Kresge Co. in Lincoln.
She was born Sept. 22, 1925, in Beason to Gustave C. and Christine Budde Haseley. She married H. Earl Riggs on March 28, 1948, in Lincoln. He preceded her in death on April 2, 1987.
She is survived by two sons, Larry (and Jackie) Riggs of Lincoln and Kevin (and Missy) Riggs of Lincoln; one daughter, Joyce (and John) Hyde of Springfield; six grandchildren; six stepgrandchildren; two great-grandchildren; and 10 step-great-grandchildren.
She was also preceded in death by one brother, one sister and one stepgrandson.
She was a member of Zion Lutheran Church of Lincoln, the church's Ladies Aid, Golden Heirs, Zion quilters and various card clubs.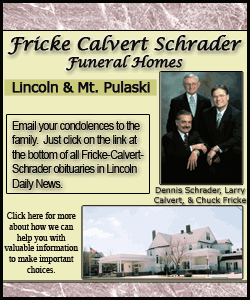 Memorials may be made to her church or to the donor's choice.
Click here to send a note of condolence to the Riggs family.